Printing On Campus
The King's University has 24/7 printing services to three campus printers. Students can access the below printers from their computers:
Main Campus Library (Library hours only)
Outside Enrolment Services office
Tower 701 Lounge 
Apartments Main Lounge 
*You need to be connected to one of the campus's wireless or wired networks to print on campus.
**Requests for RezNet connections must be sent to Help Desk first.


Setting up a personal device for on-campus printing
King's uses PaperCut for printing services. Access it here (tip: bookmark it for quick access).

When PaperCut opens, it will ask for your username and password. These are the same as your King's login information. You can access PaperCut from any university computer by clicking "Details..." on the print balance popup window.
You can also look at account information, print job history, release any jobs held in the Master Student Queue, and submit web print jobs.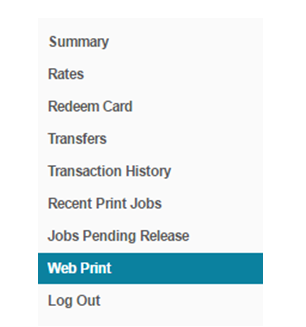 Printing a file
To submit a web print job, click on the "Web Print" link on the left-hand menu.
The Active Jobs screen will come up. From here, you can check the status of submitted web print jobs.  
3. Click the "Submit a Job" link to start the Web Print wizard.

The first step of the Web Print wizard is selecting where you want your document to print from. The Library and hallway printers have an automatic colour and grayscale option available during printer selection. All printers are set to print in duplex mode.

Select the number of copies you want (currently, no other options such as finishing options, colour settings, or duplex settings can be changed. Please use the printer selection to change the output settings in the previous step).
The final step in the Web Print wizard is to upload the document you're printing. This page lists the supported applications and associated file extensions.
When the upload is complete, the user is returned to the front Web Print. The table shows the progress of the job from rendering to printing, and job details such as cost and number of pages are populated. You can track the status of the job on this page or navigate away/close the browser--the printing job will not be affected.