Alumni

Alumni Relations works to support our alumni in their lives and relationships with the King's community. We would love to be in touch with you!
There are several ways you can stay involved with King's: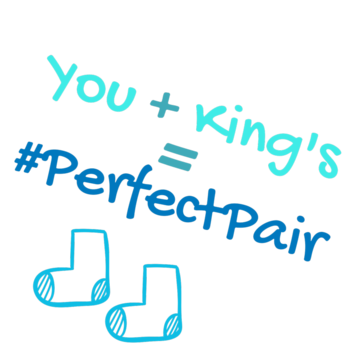 Exclusive Offers for our Alumni
Claim your free pair of King's socks and share photos of where your #PerfectPair have been! Tell us where to send your exclusively-designed alumni socks. 
Welcomed a new member to the King's family? Pick your favourite colour of a free King's infant onesie. Alumni Relations will send it right to your house.
The alumni perks don't stop there. Share your exciting news with us, and the broader King's community! Complete our online Alumni Update Form with a photo or link to a video or website. We are always looking for great alumni stories to share, so don't be shy. Whether your news is big or small, we want to tell the world how proud we are! Tell us about your recent promotion, graduate studies, baby or adoption news, wedding plans, travel adventures, volunteer efforts, and favourite forms of recreation. Send us an update!