Study Computing Science at King's
Just as other disciplines use instruments to study unseen phenomena, students in the computing science program at King's use computing devices to study aspects of how God structured and organized the universe.
Learn current programming languages (C++, Java, JavaScript, Python, PHP), database design, software engineering, numerical computing, and modelling through lectures and lab work. Develop core skills like critical thinking, problem-solving, and algorithm analysis to give you a competitive edge in the world of computing science.
There is a unique joy in creating new programs and code that run smoothly and effectively. King's computing science program gets hands-on with excellent hardware and software labs. Study animation, game design, image processing and embedded images, web application design, and software engineering; get the breadth of experience you need to pursue your career after graduating.
Computing Science Program Highlights
Take theory and concepts learned in the classroom and use them to develop your own software and applications.
Study and apply your skills to unique fields of Computing Science such as graphics and visualization, secure computing, and the development of new software.
Use algorithmic machines and programs to solve problems, complete basic and complex tasks, and automate tasks too time-consuming for humans to do on their own.
Discover how computer science has moved the core of our society and provides the means by which information is captured, analyzed, manipulated, shared, and stored.
Draw from mathematics, logic, engineering, sociology, psychology, and other disciplines to provide insight into the development of new and better technology.
Computing Science Program Options
Available as a major
4-year Bachelor of Science
Available as a concentration
Available as a minor
Computer Science Profiles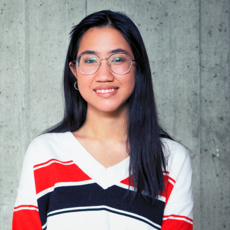 Kalley Lasola, B.Sc. Computing Science '21
One day I walked into King's after seeing it while driving down 50th street, and was instantly surprised by how welcoming people were to show me—a complete stranger—around. The class sizes…
Read More