Interdisciplinary Studies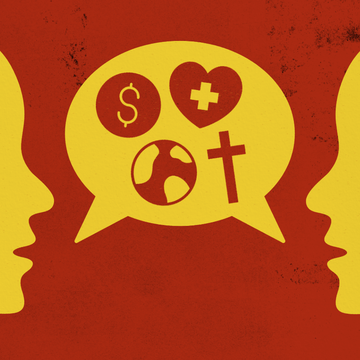 Winter Conference:
Moral Contests
January 19–20, 2023
How do we go about having conversations that matter? It's easy to be dismissive of others' opinions if we don't agree with their politics but this can be destructive and make us feel that we have to prove ourselves right instead of looking for answers together. A university can be a great place to engage in debate if we listen to each other well. We invite the campus community to this conference which will help us engage in collective moral conversations, at university and beyond.
Keynote Speaker
Dr. Michael Demoor is an Associate Professor of Social Philosophy in Politics, History, and Economics at King's. He's also the Dean of Social Science, a board member of a public justice organization, and a member of a congregation in a denomination experiencing a very divisive failure to have a good, hard, moral conversation. His thinking and teaching focus on themes of pluralism, public rationality, and democracy… so just details and small stuff. He likes to talk but has learned to listen.
Dr. Demoor will be hosting a free public lecture entitled "Wait…don't go…let's talk!": Difficult Conversations in a Time of Easy Exit on Thursday, January 19, 2023 in N102 (the Theatre), at 7:00 pm.