Study your minor in Drama at King's
Take your performance skills to the stage in live theatre and motion pictures! Students in the Drama program learn to perform and express themselves—and other personas—both on stage and behind-the-scenes. As a drama minor, students have the opportunity to contribute to short and full-length productions, and if they're up for the challenge, to take centre stage!

Drama is rich with possibility for personal and professional development. This minor is also a good fit for students who are interested in King's Bachelor of Education degree and instructing high-school drama programs themselves.
Want a closer look? Take a look at some past performances, and keep an eye out for upcoming production announcements to get a better idea of what drama at King's is all about.
Drama Program Highlights
Immerse yourself in an art form involving the complete resources of a person in one medium
Step out of your comfort zone as you embrace the dramatic process
Build your confidence and talents in dramatic settings in a community that is safe, respectful, open and fun regardless of skill level
Perform on stage to shine and bless others through dramatic artistic expression
Study various aspects of the dramatic process; from stagecraft and design, oral communication development, and motion picture production, to live performance
Encounter a program perfect for those who imagine themselves holding a public-facing role, are looking to build public confidence, wish to gain greater appreciation for the theatrical arts or simply posses a love for acting and storytelling
Drama Company
Consider auditioning or volunteering for The King's Players, the official drama company of The King's University. The King's Players puts on a wide variety of productions and is open to interested students and community members. The troupe utilizes the campus drama facility which includes a stage and prop workshop, costume room, production studio and soft-seat theatre.
Past productions include The Great Divorce, The Diary of Anne Frank, Halo and many others. Learn more about our upcoming featured drama production.
Drama Program Options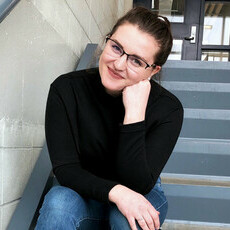 "I learned so much during my time at King's and met some truly incredible people. I took a psychology degree with a drama minor which often meant balancing a heavy academic load with lengthy rehearsal schedules but the friendly, flexible professors helped to ensure I was never overwhelmed. King's is...
Zayal Sirdar, Graduate Student - Utrecht University