Pursue a B.Mus. or B.A. in Music
Cultivate your talents in performance, musicology, aural skills, and more. At King's, you will study the physical aspects of music—including theory and performance techniques—and its aesthetic qualities, all in a collaborative and fun environment. You will also answer philosophical questions about music and ask questions about its nature, origin, and development.
A music degree at King's guides you to a richer understanding of the role music plays in a well-lived life and engages in the beauty, drama, intellectual rigour, and healing power of Western classical music. An equal emphasis is placed on classroom learning and private instrument instruction and you will find countless performance opportunities to hone your craft and do what you love—making music!
In addition to the B.Mus. and B.A. in Music programs, any student can enjoy music as part of their program by selecting music courses as electives or by adding a music minor.
Music Degree Program Highlights
Perform in numerous concerts and recitals throughout the course of your program
Develop new performance techniques and abilities
Take part in choral and instrumental ensemble opportunities
Study under the guidance of professional musicians with years of performance and instruction experience.
Be a part of class discussions, presentations and analysis of songs, sounds, and ideas
Explore Christianity's influence on the development of music and examine the beauty of music through a Christian perspective
Private Music Instruction
King's offers private musical instruction in a variety of instruments. The university also offers courses in choral conducting, pedagogy and collaborative piano, all of which are taught by excellent instructors ready to adapt to your unique learning needs.
Private music instruction is available to all Music majors and minors as well as any King's student looking to fulfill a Fine Arts course requirement for their program.
For any inquiries related to registering for a private music instruction course as part of your program, please contact the Charles Stolte, Music Department Chair.
Music Facilities
Nicholas B. Knoppers Hall
King's recital hall seats an audience of 200 and features excellent acoustic and recording facilities. The hall's instrumental inventory includes the following:
Yamaha nine-foot concert grand piano, once owned by renowned pianist Glenn Gould
Hailun seven-foot grand piano
Letourneau 12-stop, two-manual mechanical pipe organ
Hubbard one-manual, Flemish-style harpsichord
Sabathil two-manual pedal harpsichord
Organ students have weekly lessons at West End Christian Reformed Church, which boasts of a beautiful 36-stop, two-manual mechanical Letourneau organ. This venue is also an excellent alternative resource for recitals.
Practice rooms
Eight practice rooms that are bright, naturally lit, and very spacious
Practice time is scheduled for each term according to availability and student needs
Many of our eight practice rooms house grand pianos
Additional music facilities
Take a look at our vocal studio, practice rooms, most prized instruments, and other fine arts spaces using King's campus map.
Music Program Options
Available as a major
4-year Bachelor of Music
4-year Bachelor of Arts
Available as a concentration
Available as a minor
4-year Bachelor of Arts
3-year Bachelor of Arts
4-year Bachelor of Science
4-year Bachelor of Commerce
Available as a diploma and certificate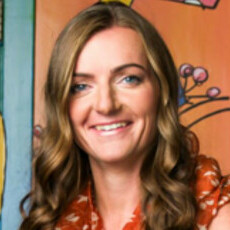 Author and Theologian Howard Thurman once said, "Don't ask what the world needs. Ask what makes you come alive, and go do it. Because what the world needs is people who have come alive." This is a key quote that has driven me in my work. I work as the art specialist at Mount...
Carla Stolte, Art Specialist and Community Activist