Study your minor in Geography at King's
If you've ever stared in wonder at the mighty Rocky Mountains, explored the array of vegetation found in British Columbia, or have simply wanted to know more about the world you live in, King's minor in Geography is a great fit for you. Explore the relationship between humans and the natural environment by choosing a study a Geography minor as part of your degree.
Geography seeks to understand everything from the spatial distributions of cities, industry, religions, and culture to the spatial location and movement of biophysical landscapes and human features on the earth's surface. As a Geography student, you'll ask questions such as "Where is it?" "Why is it there?" "How does it relate to other locations?"
Geography Program Highlights
Study the origins of earth's major systems including its geological and hydrological systems, and climates.
Investigate the processes that influence landforms, vegetation, and soils.
Understand how natural phenomena impact human settlements, or inversely, how humans have impacted the natural landscape through their use of the land.
Take field trips across Alberta, work with maps and instruments in King's Geography lab, and use computer applications and GIS to better understand the composition of an environment.
Open your eyes to how God has patiently carved the physical landscape into the marvelous creation we enjoy each and every day.
Geography Program Options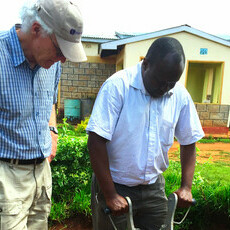 Dr. Harry Spaling, Emeritus Professor, Environmental Studies & Geography
The need for food security among households in Africa is becoming increasingly important under climate change. One promising response is conservation agriculture. I investigated a variation of conservation…
Read More