Study General Science with King's I.Sci Program
King's flexible Interdisciplinary Science (I.Sci) program helps prepare students for science related careers by exploring disciplines such as biology, computing science, psychology, kinesiology, mathematics, and more at a broad level. In addition to equipping students to tackle challenges and discoveries in modern science, the program provides excellent preparation for those looking to continue on to professional school, teach science at a grade school level, or enter the workforce directly after graduation.
Hands-on learning experiences and a focus on collaborations between disciplines in the natural sciences allow students to study chemical biology, computational chemistry, and more, while also providing students with connections between science and fields such as public policy, business, theology, and others.
Interdisciplinary Science Program Highlights
Specialize in any two concentrations from biology, kinesiology, chemistry, computing science, mathematics, physics, and psychology. These disciplines may also be used as teachable majors and minors for students looking to pursue an Education degree after graduation.
Discover new ways of thinking about problems from diverse scientific perspectives.
Uncover how specific areas of scientific knowledge relate to complex problems in our world.
Develop critical thinking and analytical skills.
Prepare for careers in health sciences, nursing, technology, secondary education, industry and entrepreneurship, and more.
Acquire the ability to gather, review, evaluate, interpret and critique data and draw conclusions from it.
Communicate research results in a professional and comprehensive way by forming logical arguments and explanations.
Interdisciplinary Science Program Options
Available as a major
4-year Bachelor of Science
Program Profiles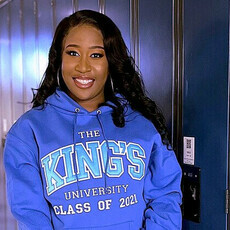 Desernique Ricketts, B.Sc. Biology '21
To be honest, I didn't even know about King's at first. I had admission to another university and started choosing my classes, took my I.D. picture, paid my deposit . . . everything. However,…
Read More