Bachelor of Commerce at the Leder School of Business
Business Program Highlights
Apply business principles and practices to real-world challenges
Select from courses that prepare you for work in the private, public and not-for-profit sectors
Discover how to improve the world through entrepreneurship, leadership, accounting and finance
Learn the theory behind best business practices. Apply business principles through real-world experiences such as internships, case competitions and global travel opportunities
Build your skill set as a business professional by studying topics such as statistical analysis, commercial law, and applied business simulation
Integrate Christian values like compassion, courage, justice and hope as you pursue a career of doing business well
Outside the Classroom
Students at the Leder School of Business are active in the community. As a business student at King's, you will be given the chance to take part in consulting projects, internships, case competitions, networking events, mentorships and more.
Study Abroad
King's is passionate about preparing business students for careers in a globalized world through cross-cultural experiences such as the Netherlands Study Tour and Asia Study Experience.
Internships
Work in a company to gain first-hand knowledge and skills used in the industry. Engage in a four-month internship that enhances your expertise and lets you experience real-world team environments.
Leder Business Association (LBA)
Get involved with LBA, a student-run group that plans events and creates opportunities for business students to connect with one-another and network with the greater business community. LBA also organizes and hosts King's annual Career Fair.
Business Program Options
Available as a major
4-year Bachelor of Commerce
Available as a minor
Available Concentrations
York Dudiak, B.Com. Business '23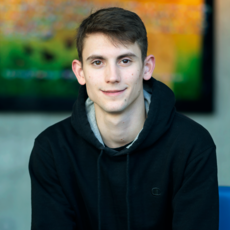 My favourite part of King's is the community. I have a great relationship with all of my professors, and know that they really care about me and want me to succeed. I can talk to anyone, and know that they will be friendly and helpful. The campus clubs are extremely welcoming, and any campus community is willing to engage if you're interested. This sounds cheesy, but I've really learned what kind of person I want to be. King's has displayed the value of community and care in and out of the classroom,…
Caleb Notenbomer, B.Com. Business '22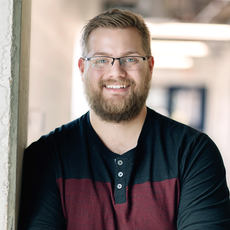 My favourite part of being a student here currently is being able to attend class in-person. I think that is a privilege that not everyone has been able to experience over the past couple years. But overall it's the community. I love being able to walk down the halls and know a majority of the people by name. Having this kind of relationship with both students and professors here has been one of my favourite aspects. Plus the free cinnamon buns and breakfasts from the commuter program is a pretty…
Ben Dueck, B.Com. Business '24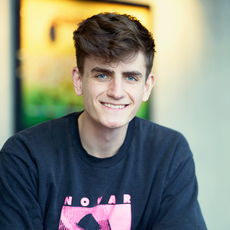 I chose King's because I value having a community that is centred around Jesus. When it came to choosing a major, I chose business because it applies to a variety of occupations. I hope to use my business degree in the music industry or in some creative capacity. My favourite course so far has been THEO 250 with Dr. Rillera. The class walked through the Bible from start to finish, focusing on the overarching story. Before the class, I knew the popular Bible stories like Samson and David and Goliath,…
Jed Jespersen, B.Com. Business '22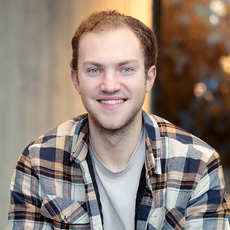 My favourite part of King's has to be the community of people. I feel so comfortable in all my classes, and now that I am in my fifth year I know most of my peers very well. This makes working on group projects and engaging in classroom discussions so much better. Aside from my peers in class, I really enjoy spending time with my teammates as I came here to play volleyball. I was enrolled at NAIT and was going to play there, but after being recruited to King's I met some of the…
Catherine-Esther Cowie, Entrepreneur and Artist
I chose King's for the willingness and opportunity to grapple with how my faith fits into and informs my chosen career path. What does it mean to do business from a Christian perspective? Dr. Elwil Beukes challenged me to think beyond just being a good person and consider the social and environmental impacts of doing business. I also appreciated my science and theology professors, who challenged some of my traditional Christian views. What received beliefs did I need to interrogate and accept…
Lucile Maniraguha, B.Comm. '20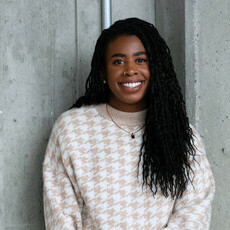 Business at King's gives students such a unique perspective on the world of business. The business professors ensure you get so much exposure to the business sector in order to ease student's transition into the work force. We get so many opportunities to network with professionals in different industries. "I've gone through so much growth during my time at King's, and I believe that the people I've surrounded myself with here have helped me through periods of questioning…