Harvest Banquet on October 1, 2022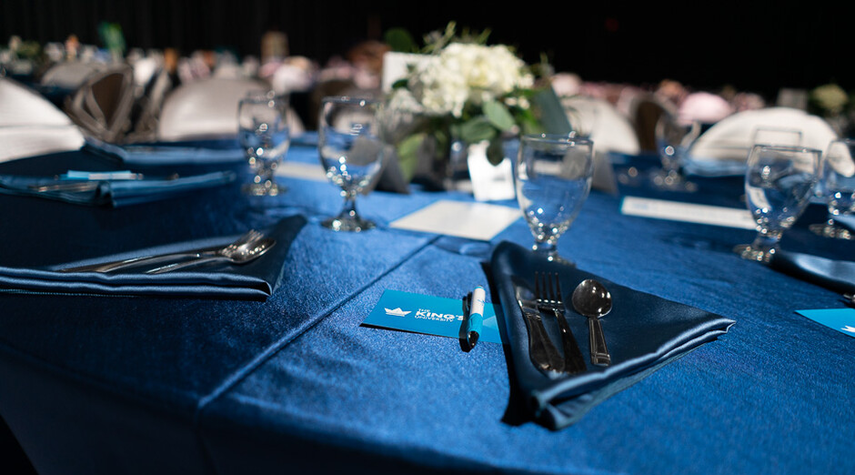 The King's University has been providing quality Christian education since 1979. Join us for the annual Harvest Banquet to celebrate the King's community and raise funds to support student scholarships!
We will be hosting the Harvest Banquet and Silent Auction on Saturday, October 1, 2022 at The King's University. Doors will open at 5:00 p.m. and dinner will be served at 6:00 p.m. The theme for this year is Bright Hope for Tomorrow. Come join us for an evening of live entertainment, our alumni achievement awards, and a few key items from our silent auction.
Silent Auction
The Silent Auction is a highlight of the Harvest Banquet every year. All proceeds from the banquet and silent auction will support Student Scholarships. If you wish to donate items towards the auctions, please email development@kingsu.ca.
Keynote Speaker
Dr. Peter Mahaffy is an internationally known climate educator, chemistry professor, and director of the King's Center for Visualization in Science which Brian Martin and he founded 17 years ago, partnering each year with a gifted team of King's students and other faculty. KCVS now serves about a half-million students, educators, and the public from 100 countries each year. His current research and professional activity is focused on the interplay between systems thinking, sustainability and science. Dr. Mahaffy has been a part of the King's community for 41 years.
This year's Master of Ceremonies is Rev. Jonathan Nicolai-deKoning.
Entertainment
Throughout the evening we will see performances from multiple King's students! Ashley Elgersma will perform alongside Rigel Rendon and Rafael Tian who will captivate the audience with their exceptional talents.
Paul Woida is a contemporary Christian singer, songwriter and looper – a musician who loops, records, and plays back melodic and rhythmic lines using instruments and voice in real time. Paul has the ability to combine complex rhythms, melodies, and harmonies to create a large musical sound. In 2019 Paul sold out Edmonton's Winspear centre, and we are so thrilled to have him join us!
If you have questions about the Harvest Banquet, contact development@kingsu.ca or call 780-465-8314.
Join us for the 2022 Harvest Banquet