Back to Blog
Regehr-Olson Duo
Feb 09, 2018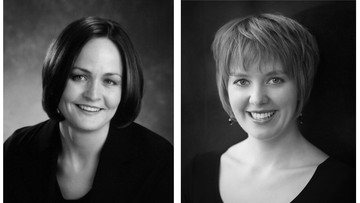 Pianists Leanne Regehr and Janna Olson have been playing together as a duo since they met as graduate students at the University of Alberta in 2002. Their concerts are known for featuring diverse classical works, new and "old" music by Canadian composers, and for highlighting the joy of music-making with friends!
Originally from Three Hills, Alberta, Janna Olson holds a Masters in Piano Performance and Pedagogy from the University of Alberta where she studied with Janet Scott-Hoyt. She is on the faculty of the Gordon Institute for Music Learning and is passionate about connecting piano pedagogy with recent research on how the musical mind works. Janna currently resides in Edmonton teaching privately and as a sessional instructor at The King's University.
Leanne Regehr is a versatile pianist who is widely recognized for her intuitive ability to collaborate with other musicians across an extensive range of repertoire. She completed her Doctor of Music in Piano Performance at Northwestern University and explored further studies at the Banff School of Fine Arts, the Universitat Mozarteum in Salzburg and the Aspen Music Festival. Currently based in Edmonton where she serves on the faculties of the University of Alberta and The King's University, Leanne is also the pianist for Edmonton Opera and the Richard Eaton Singers.