Drama Department
The Minor or Second Concentration in Drama offers courses that will help students develop their skills in the areas of live theatre and motion pictures. You will gain theatrical knowledge and practical experience both on stage and behind-the-scenes as you contribute to several short and full length productions. Drama is an area of study rich in possibility for both personal and professional development. This minor is a good fit for students who are interested in a Bachelor of Education degree.

Some Drama courses available include: Stagecraft and Design, Introduction to Motion Picture Production, Dramatic Process, Introduction to Theatre Art and Ensemble Productions (stage plays).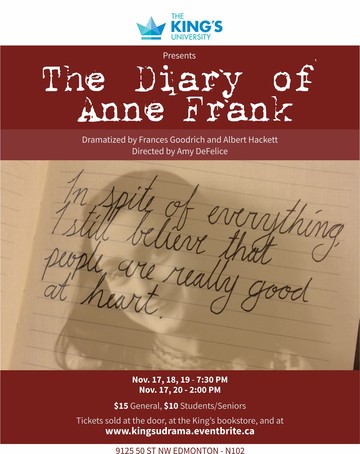 "The Diary of Anne Frank"
By Frances Goodrich and Albert Hackett
 13-year-old Anne Frank, hiding in an Amsterdam attic with her family and a few of their friends during the Nazi occupation and persecution of the Jews, kept a diary glowing with dignity, hope, and humour for two dark years. Only Anne's father survived the death camps. He published Anne's diary, which became one of the most famous books of the 20th century, and a powerful play. Award-winning director Amy De Felice and Professor of Drama Daniel vanHeyst lead the cast and crew of King's drama students.