"You Probably Thought that I had Forgotten You"
GSHC Postcards Collection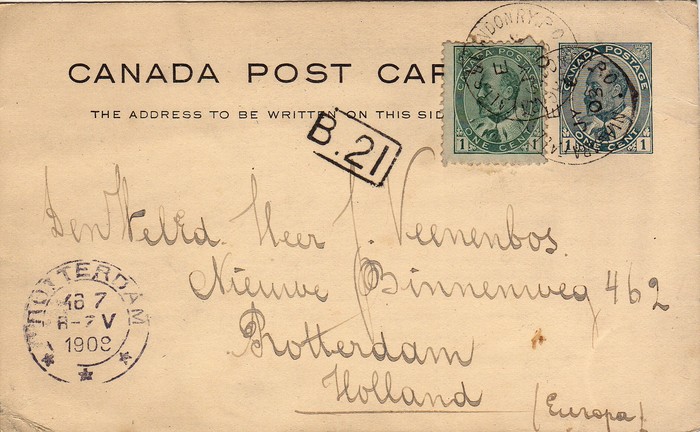 Postcard Front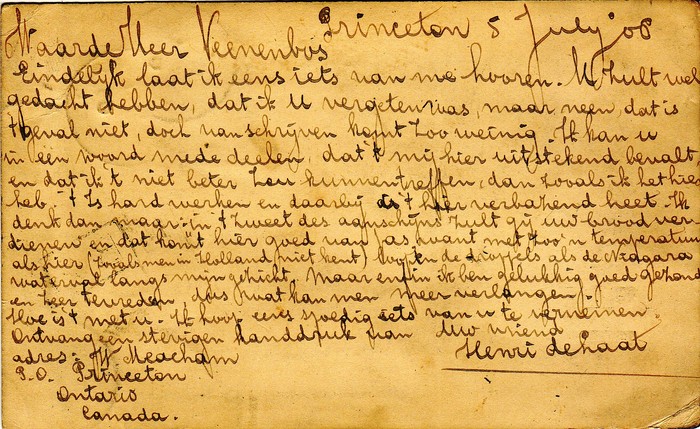 Postcard Back
"You Probably Thought that I had Forgotten You"
Fonds/Collection: GSHC 004.003
Postcard Message (Translated)
Dear Mr. Veenenbos,
Finally I am making myself known. You probably thought that I had forgotten you, but No, that is not the case, however, there is so little time to write. In one world, I can tell you that I am doing fine here. There couldn't be a better place to be. I have to work hard and it is also surprisingly hot here. I think than that one should earn his money by the sweat of one's face! And that is just the thing, because with such a temperature as it is here (the like of which one does not know in Holland) and the drops drip along my face like the Niagara Falls. But anyway I am luckily very healthy and very satisfied. I hope to here something from you, soon.
With hearty handshake from your friend,
Henri de Laat
Sender: Henri de Laat
Addressee: Mr. Veenenbos
Origin: Princeton, Ontario
Destination: Rotterdam, Holland
History
This card was mailed by Henri de Laat, July 6, 1908, from Princeton, Ontario to J. Veenenbos, Rotterdam. Veenenbos was the manager of the gin factory fa Tissot & Co. in Rotterdam, located on the Binnenweg at that time was the Colonial merchandise business of W. J. de Laat. This is most likely their connection.
Henri de Laat, age 23, came to Canada in 1906. According to the 1911 Census, he was working as a machine operator at the Knitting Factory, Woodstock, Ontario.
Source
Krijff, Jan. Greetings from Canada: Postcards from Dutch Immigrants to the Old Country, 1884-1915. Vancouver: Granville Island Publishing, 2012.
Postcard Style: Undivided Back
Publisher: Canada Post Card
Date Sent: July 6th, 1908