Back to Blog
Following Jesus in a Culture of Fear and Anxiety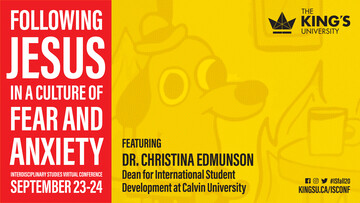 (Fall 2020)
As we explore a global situation remarkably infused with fear and anxiety - individually, socially, politically, and spiritually – how can we understand the roots of fear and anxiety?  What are some responses that will counteract fear? In what way can we experience the peace that Christ gives us in such a culture?
Breakout Sessions include: a river walk, yoga and contemplative prayer sessions, the King's University Chamber Choir, and a three-part talk by the Leder Business Faculty!
Featured Speakers:
Keynote: Dr. Christina Edmondson (Dean, Intercultural Student Development at Calvin University): Fear and Peace: Implications for Mind, Body, and Soul
Dr. John Wood (Professor Emeritus, Environmental Sciences, The King's University): Fear, Death, and Doxology
Ms. Uchenna Mgbaja (Reeves College, Oil and Gas Administration): Fear of the Other
Dr. Brett Roscoe (English, The King's University): What's so Scary About Fear of the Lord?
Ms. Janet Sobocan (Education, Western University): Masks or no Masks? What would Jesus do?
Ms. Olejuru Anozie (Narrative Medicine, Columbia University): Narrative Medicine and the Stories we Tell Ourselves
Keynote Speaker:
Dr. Christina Edmondson holds a PhD in Counseling Psychology from Tennessee State University, a MS degree from the University of Rochester in Family Therapy, and a Bachelor's degree in Sociology from Hampton University.

For over decade, Christina has served in a variety of roles including recently as the Dean for Intercultural Student Development at Calvin University. Within the Higher Education sphere, she continues to serve as an instructor and partners with several universities to develop ethical and impactful leaders. Additionally, a Certified Cultural Intelligence facilitator, public speaker, and mental health therapist, Christina is often contacted by churches to consult about leadership development, anti-racism, and mental health issues. Her writing has been seen and referenced in a variety of outlets including Essence.com, YourBlackWorld.com, and Gospel Today magazine. She is also one of the co-hosts of the Truth's Table podcast.