Back to Blog
Get to Know Your Profs - Dr. Leanne Willson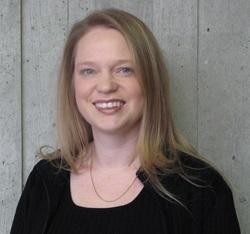 Hello King's!
To continue with our "Get to Know Your Prof" blog series, I was able to interview one of my favourite professors, Dr. Leanne Willson. You too can get to know her a little bit more:
What did you want to do before becoming a professor, if anything at all?
"Before I wanted to be a Psychology professor, I wanted to be an English professor so I could read poetry for a living. My love of academics goes back a long way. Before that, I guess I wanted to be a ballerina or a fire fighter like many 6-year-olds."
What made you want to be a professor?
"Originally, I loved the romanticized version of being a professor – being able to sit back and think about important ideas, generate creative output… By my first year in graduate school, I realized that the reality of being a professor is much more fast-paced and practical than one might expect. It has different rewards than I thought it would – the rewards of seeing students reach their potential and realize their dreams, the rewards of finding answers to research questions that make a difference in the lives of others."
What drew you to become a professor at King's?
"While I was finishing my Ph.D., I taught a couple of courses at King's. When my degrees were done, I took a job at another institution but was asked to sit on the King's Senate (a board that directs the academic functions of the university). I had always loved the way that King's took seriously the integration of faith and the disciplines and I loved the energy and passion with which professors at King's took on important research questions. Faith-based universities often focus on things other than research. At King's, teaching is very, very important, but so is research – faculty members at King's have active research programs and present and publish relevant work. When a position came up in the Psychology Department at King's, I applied and have been here for nine years."
Do you currently have any research projects going on? If so, what are they?
"My research program has two branches. One of the branches is my own research area – I have four active projects that are either in data-collection mode or are being written up for publication. I am researching the psychology of moral behaviour (helping others, being honest, etc.) and have recently been doing work in environmental morality. The active projects in my lab are:
Climate Change Communication: in which I am looking at how religious people may view the issue of climate change differently than non-religious people.
Environmentalism, Materialism, and Perceptions of Time: in which I am looking at how being materialistic and rushed are related to our environmental beliefs and behaviours.
Christian Beliefs and Environmental Stewardship: a project about how certain tenets of Christian faith might inhibit environmentalism while other Christian beliefs increase environmentalism.
Hope in the Face of Climate Change: I am working with a team from three universities on factors that influence hope and hoping in the face of the realities of climate change.
The other branch of my research program is related to the needs of community agencies in Edmonton. This work is called Community Engaged Research (CER). It is important work because it matches the needs of community partners with students who are learning research skills as part of their degrees. I oversee the research with our Community Engaged Research Coordinator, Laura Rogers.  The partners that I'm working with this year are The Centre to End All Sexual Exploitation (CEASE) and their Prostitution Offender Program (or "John School"), The Edmonton Down Syndrome Society and their Toddler Speech-Therapy Playgroup, a research team working on evaluating a parenting program called Circle of Security, and the Spinal Deformities Clinic at the Stollery Children's Hospital who are assessing the need for community supports for their patients."
Can you tell us about one of your experiences as a professor which reminds you why you love teaching?
"Of six students for whom I wrote reference letters this year, all six got into graduate schools of their choice. As each student was accepted over the last two months, I was reminded that one of the things we do well at King's is to prepare students for the next chapter of their lives. Not all students go on to graduate school, but whatever their next steps are, what they have learned and internalized during their years at King's goes with them – to graduate schools all the way across Canada, to social agencies here in Edmonton, to professional master's programs, and beyond that."
Why would you recommend your program here at King's, specifically?
"The Psychology program at King's is exceptional. I wouldn't be here if I didn't think this was true. Students are exposed to the best of the theories and research in psychology, and are required to think critically about what that means for their lives and their worldviews. Students get opportunities to develop elementary counselling skills, interview skills, research capacity, statistical expertise, and analytical skills. King's graduates are citizens who critically evaluate information and who are skilled and employable."
King's has so many incredible professors that have some amazing life stories. I would strongly recommend getting to know your professors when you come to King's. They are absolutely wonderful people that are more than happy to walk along side you in your undergraduate journey.
 All the best!
Monica