Back to Blog
How to Plan the Perfect Picnic
Jun 17, 2019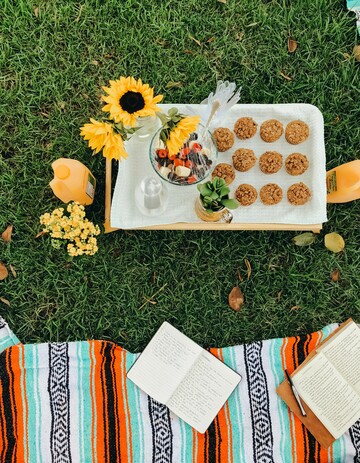 Hey Everyone,
Today is international picnic day! What better way to celebrate than by having a picnic with some friends? While I'm no picnic expert, I do know what makes a good picnic and it's the food. I have designed a list of great recipes to make for an amazing picnic.
Start off with an appetizer:
Pesto Hummus with Homemade Pita Chips: If you like hummus you'll definitely want to try this recipe. Adding the extra flavour to the hummus makes it super delicious. Top it off with some homemade pita chips, and it's perfection! Make sure you have some fresh fruit and veggies as well. This easy to make dill dip recipe will be sure to make your guests happy.
Salad Time:
Favorite Quinoa Salad: While this one may seem a bit far-fetched, trust me quinoa salad is delicious and you will be shocked by how much you and your friends will enjoy it. If you're not feeling quite that adventurous you could always go with the classic potato and/or macaroni salad.
Main Course:
Chicken Wraps: Wraps are an easy to make and easy to pack meal, perfect for a picnic. With five different types of recipes to pick from, you'll definitely be able to make something you and your friends will enjoy.  
Finish with Dessert:
Homemade Chocolate Chip Ice Cream Sandwiches: If you're feeling extra adventurous, follow this recipe to make your very own ice cream sandwiches right down to the ice cream. But if you're anything like me and just know you'd figure out a way to mess up the ice cream, you can always make the cookies and buy a pail of ice cream.
There you have it, some new and fun recipes to try! If you try some of them, drop a comment below and let us know how it was.
Happy Picnic Day,
Lindsay