Back to Blog
The Perfect Summer Smoothie Recipes
Jun 19, 2019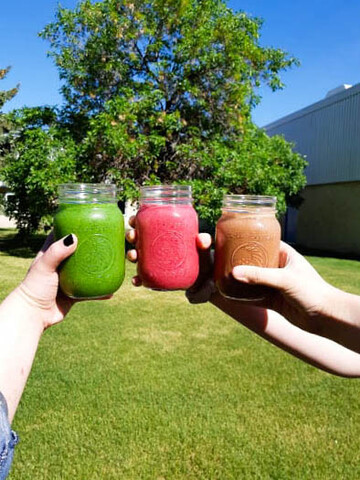 Hi friends!! I hope you are all enjoying your summer, and if summer hasn't started for you yet…you're so close, keep pushing! For today's blog, I'm going to share three smoothie recipes with you that you can try out this summer. We taste-tested these smoothies in the office, so I can tell you from personal experience that these recipes are super tasty!
The first smoothie is a chocolate peanut butter banana shake! This smoothie is soooo good! It has some of the best flavors – banana, peanut butter, and chocolate of course! To make this smoothie, you need:
2 large overripe bananas (can be frozen if you want) **overripe bananas are preferred for this one because they will add some sweetness to the shake!
1 cup original almond milk (or more to thin as desired)
3/4 cup ice
1/4 cup creamy peanut butter (I used crunchy and it worked well too!)
2 tbsp. unsweetened cocoa powder
1/2 tsp vanilla extract
The next smoothie is a summer berry smoothie, and it tastes like summer in a cup! Amazing. Overall, this was everyone's favorite smoothie. To try this super refreshing smoothie, all you need is:
1 1/4 cup frozen raspberries **we used more like 1 ½ cup because raspberries are the BEST
1 large ripe banana (can be frozen)
1/2 cup pomegranate juice
3/4 cup orange juice
3/4 cup original almond milk
The last smoothie is a mango ginger kale green smoothie! I love kale so I was really excited for this smoothie. To make this one you need:
2 cups packed kale (fresh or frozen)
1 cup ripe frozen mango cubes
1 cup ripe frozen peaches
1 tbsp. minced fresh ginger
1 1/2 - 2 lemons or limes, juiced
1 1/2 - 2 cups filtered water
1 tbsp. maple syrup (optional) **originally I didn't add this, but if I made it again I would try it!
The ginger flavor really came through, which I loved, but if you aren't a huge fan of ginger I'm just warning you that the flavor is strong! I liked this one, but if I were to make it again I might use orange juice instead of water, or do a half and half mix! It had more of a bitter taste to it, so if you want some sweetness add the maple syrup or maybe try fresh mango and peaches instead of frozen!
There we have it, three delicious smoothie recipes! These would work great as a quick on the go breakfast, a nice snack to cool you down on a warm day, or if you're just craving a yummy smoothie!
                                                                                                                                                                             Happy blending!
Kaleigh