Back to Blog
Kings Athletic Camps: An Insight into Varsity Sports
Aug 11, 2021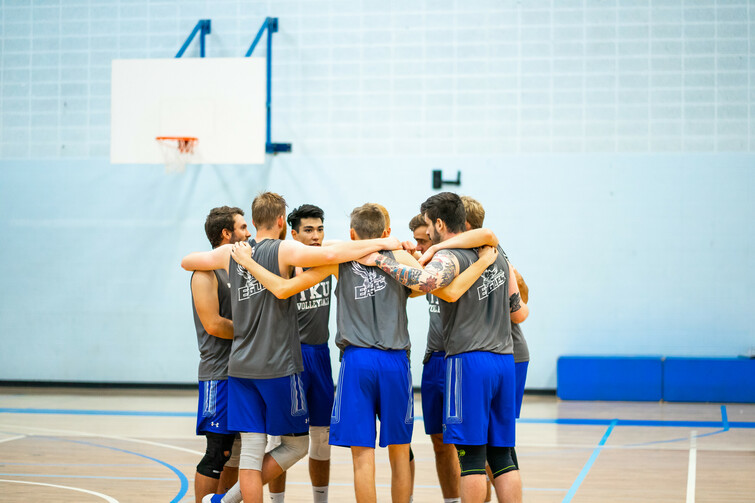 Hey everyone,
For this week's blog, I'd like to give you an insight into King's varsity sports. More specifically, let's see how our own student athletes run the King's Athletic Summer Camps.
I'd like to say thank you to Lauren Kroetsch (B.Ed. Secondary, 1st year) and Jed Jespersen (B.Comm. Economics, 5th year) who took the time to share with us about these camps.
What does a typical camp day look like?
"Campers are greeted at the front doors by Eagles athletes with a booklet for the duration of the camp. The day starts off with introductions of the coaches and players followed by fun warm up games. Athletes are divided into groups with a couple Eagles coaches. Athletes start off by practicing the targeted skill through challenging, fun drills! The athletes then get a break for lunch where they work through the booklet provided with their assigned groups. This booklet helps guide athletes to discover who they are as an athlete, student, and member of society. It allows the athletes to ask sport related and bigger picture questions to experienced athletes! After break, the athletes are directed to focus on a different skill. They are lead through a series of drills, small competitions, and scrimmages.  The last day of camp is "Tournament Day", where teams are formed and a small tournament is played! At the end of every camp day, Eagles coaches and campers highlight other players who have been working really hard and/or inspired them. Small prizes are given out to some of the highlighted individuals." -Lauren
"The kids come in the morning and we work on setting goals for the day, then we jump right into a fun warmup game followed by a stretch. We work on skills until lunch and then after the break we have a discussion session on life and athletic goals and how we can measure our progress. The second half of the day is usually gameplay type drills that help to put newly refined skills into action."-Jed
What are some activities that they do? What can they learn?
"Each camp day is broken down into specific skills such as passing fundamentals, defence, serve receive, serving, offence, and blocking. When coaching older age groups, we break into more position related skills and roles. However, we ensure each athlete is exposed to knowledge for each position. Through each of these skill sets, concepts are broken down into the basics. This allows athletes to develop a strong sense of how to be successful in each skill. The drills progress to game like situations allowing athletes to problem solve and tweak their skill to discover how to be successful.
Each camp day also has a theme with a message to focus on. During the small group sessions, Eagles coaches direct them through a series of messages and challenges as a student athlete. Athletes have the opportunity to ask Eagles questions and the small group session allows them to talk through the barriers in sport, school and life." -Lauren
"Our activities focus on volleyball skills from serving, to setting, net play, and strategy. We mix in some fun drills as well to keep engagement up. They learn valuable volleyball techniques from college athletes that have been working on their own skills every day for years and have experience from the high school, club, provincial, and post secondary levels. In addition to volleyball skills we also put a focus on mental skills such as goal setting, leadership, and taking care of our bodies to perform at our best when gameday comes." -Jed
Why should people attend? What are some benefits of attending the camp?
"I highly recommend attending this camp because it allows athletes to perfect their skills while being coached by experienced athletes! The camp also gives athletes an insight into university life! Athletes get one on one time with coaches discussing what university entails along with being a student athlete. The coaches provide great advice to young athletes up and coming in the sport on how to be successful looking towards post secondary. This camp allows athletes to truly discover who they are as an individual and how to overcome obstacles." -Lauren
"I think people should attend because we pack a lot of training into a short amount of time, the coach to player ratio is awesome because we have our players as coaches and are able to spend more time on individual coaching. The camp is great for these kids to prepare for their own school seasons ahead, and for the younger guys that are interested in starting volleyball and hopefully making the team in the fall." -Jed
What would be your favourite part about running the camp?
"My personal favourite about running the camp is creating such great relationships with the athletes! I get to know each one of them over the camp and their goals. It's so exciting for me to watch them grow as athletes over the week and overcome challenges. Each athlete teaches me so much about my own game. It allows me to learn along side them. Some of my campers to this day come out to our games!! I love seeing their smiling faces up in the stands and being able to catch up with them afterwards." -Lauren
"My favourite part is probably getting to see how much the gameplay drills progress over the week. It's clear to see the newly refined skills being put into action, and everyone knocks off the rust to be at their best when their own season comes." -Jed
I hope y'all enjoyed that little insight into our Athletic camps. These dates are coming up fast so check Eagle's Athletics for more information!
All the best,
Erykca