Back to Blog
Cosmic Threads
May 15, 2020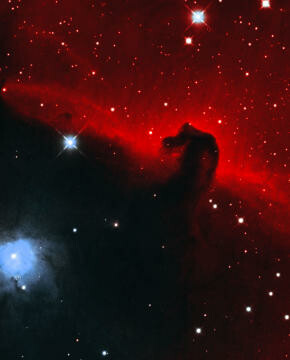 How many of us take the time and effort to enjoy the mysteries and beauty of the night sky? This exhibition takes the viewer on a tour through galaxies and star forming regions to a close up of the sun and its majestic flares. It introduces you to the luscious colours that different gases and elements spray into the cosmos. It confronts you with the beauty and mystery of the aurora borealis and the seeming infinity of the heavens, bringing it within reach by image and imaginings.
This exhibition integrates the knowledge and skill of Dr. Brian Martin, an astrophysicist, and the creativity of Evelyn Martin, a visual artist. It is a testimony to how science can inspire the visual arts and how stunning and beautiful photographs of the heavens can be.
Evelyn's tapestries incorporate the textural qualities of fabric, yarn, beads, sequins, Angelina fibres and metallic threads to allude to the depth, shapes and colours of objects in the night sky. Each of the stretched fabric works is a response to a photograph or series of photographs that Brian has taken using the observatories of The Kings University which are situated east of Sherwood Park at the home of Brian and Evelyn.
As part of the opening reception Dr. Joachim Segger, a world-renowned classical pianist and friend, performed piano pieces and improvisations inspired by, and responding to, the photographs and artworks.
Cosmic Threads was displayed at King's from February 27, 2020 to May 15, 2020.
About the artists
Evelyn Martin
"Red giants, blue dwarfs, globular clusters, star nurseries"; these are some of the terms that an astronomer uses to describe the night sky. These descriptive words not only identify objects in the heavens, they conjure up delightful images for the visual artist.
Evelyn has been inspired by the photographs that her astronomer husband Brian, takes of the objects that intrigue him in the night sky. She has selected a number of these images and has interpreted them in materials that she loves to work with; fabrics, fibres, metallic threads, sequins and glass beads. Using fabric and texture for this project has helped her discover the night sky as a place of warmth, mystery and delight.
Website: evelyn-martin.ca
Brian Martin
Brian Martin is not a trained artist nor does he have pretensions that he is one! However, since his earliest memories as a child to those of a practicing natural scientist, his impulse to do astronomy is born of the awe-inspiring beauty of the night sky. Part of his informal activity as a retired professor of astronomy is to capture images of objects in the heavens and share these with the broader public. Brian does this through an open access gallery of images produced at The King's University Observatory. It is a selection of these photographs that are part of this exhibition.