Back to Blog
Keiskamma Art Project
Nov 27, 2019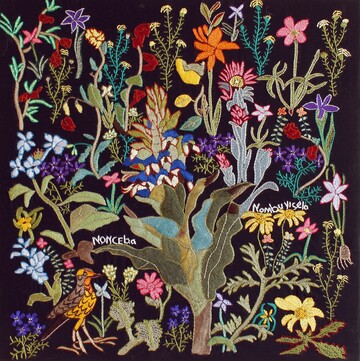 The Keiskamma Art Project is a group of mostly women from the villages of Hamburg, Ntilini, and Bodiam, along the Keiskamma river in the Eastern Cape of South Africa. Embroidery and bead-work are traditional skills in this community, and were fostered and enhanced by the founding of this project, which has been providing much-needed income generation opportunities for over 15 years. Older members of the group train anyone interested in joining, and piece-work is divided between the members, often depending on who needs the work/income most urgently. The Keiskamma Canada Foundation has supported the Keiskamma Art Project with grants and by purchasing their products for over ten years.
In the villages where the women come from who make up the Art Project, communities are struggling with endemic poverty, intergenerational trauma that is a result of the brutal apartheid regime and colonization, the lack of employment opportunities and gender-based violence. However, the Keiskamma Art Project is proof of the community's creativity and pride in their culture and traditions, as well as the beauty of the natural environment.
The tapestries on display at King's are a collaborative effort by founding members to invite younger women into the project, and to tell the stories of community members in these works. Each piece depicts a scene of village life or is a portrait that tells the story of the person depicted. There are two names usually stitched into each piece: these are the name of the designer of the piece, and the woman who embroidered it. If there is only one name then that person did both the design and embroidery work. If there are no names then it was more of a communal effort, with several people involved in its creation.