Back to Blog
The Day of Small Things
Jan 29, 2020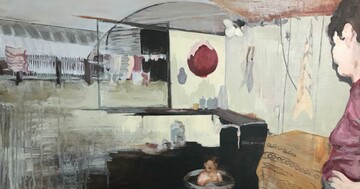 The Day of Small Things is a collection of paintings about embracing interruption and exploring the possibility of the unexpected. Intimate in scale and content, the work presented explores the space between narrative figuration and abstraction. From thinly applied watercolour to thick applications of wax and oil, these pieces play in the particularities and possibilities of paint application, to both suggest and limit interpretation.
Laura Rosengren was born in Thunder Bay, ON. She currently lives and works in Vancouver, BC. Laura graduated from Regent College in 2011 with her MA in Theology. She previously completed a BFA at Alberta College of Art and Design, and a BEd (Art Education) at Nova Scotia College of Art/Mount Saint Vincent University.
Laura's work has been featured across the country in both solo and group exhibitions. For more information on Laura and her artwork, visit her website.
Laura's pieces were displayed at King's from October 2019-February 2020.