Back to Blog
Beethoven Violin Sonatas
Mar 14, 2020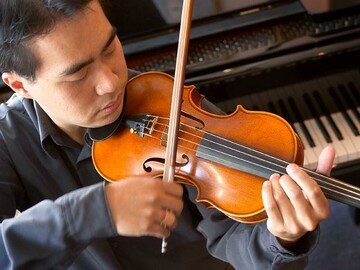 Join us for a special concert featuring Frank Ho, and current King's professor Dr. Joachim Segger. Enjoy an evening of Beethoven's Violin Sonatas right here on King's campus.

Violinist Frank Ho enjoys a dual career as a chamber musician and pedagogue. He holds Bachelor of Arts and Master of Arts degrees from the University of Alberta, as well as a Certificate in Performance and a Master of Music degree from Yale University.

Born in Hong Kong, Mr. Ho arrived in Canada at the age of five. He studied with Evan Verchomin and James Keene at the Alberta College Conservatory in Edmonton; with Sidney Harth and Erick Friedman at the Yale School of Music in America; and with Yfrah Neaman at the Guildhall School of Music and Drama in London, England. His performing career as soloist and chamber musician has taken him across three continents. In Canada, many of his concerts have been featured on the CBC.

He was the director of the Strathcona Conservatory of Music in Edmonton, where he also maintained a private studio. He is currently a faculty member of the Alberta College Conservatory of Music. His students have been prizewinners in local, provincial, and national competitions in Canada. Mr. Ho is an active adjudicator at music festivals across the country and has been a member of the College of Examiners for the Royal Conservatory of Music in Toronto since 2006.