Drama at King's
King's minor in Drama gives students a taste of an art form that involves the complete resources of a person in one medium. The program is an excellent fit for students who imagine themselves holding a public-facing role and want to build public confidence, for those looking to gain appreciation for the theatrical arts, or for students who simply have a love for acting and story-telling.
The Drama minor at King's takes students through courses in the entire dramatic process; from stagecraft and design, oral communication development, motion picture production, and ensemble production, to live performance.
While many exceptional young talents have enrolled in King's Drama program, you don't have to be a confident actor or actress to excel--that's what we're here for. Students of all skill levels and abilities practice and learn from one another and put on truly spectacular productions.
Drama professors and staff are committed to:
Engaging all students in the dramatic process.
Building students' confidence and ability in dramatic settings.
Facilitating a community that is safe, respectful, open, and fun.
Helping students step outside their comfort zone.
Organizing performance opportunities for students to shine and bless others with artistic expression.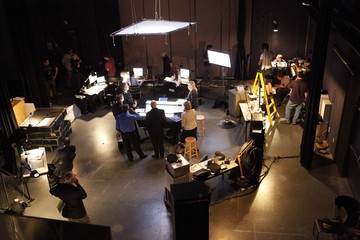 Drama from a Christian perspective
From crafting the set to taking stage yourself, drama at King's involves an integrated approach to learning that inspires a genuine and practical expression of appreciation and worship to the Creator of creativity. Just as drama is a full-bodied exercise, you'll have to think critically about all the little things that went into making you you if you're going to create a new character or scene.