Library Postcards Collection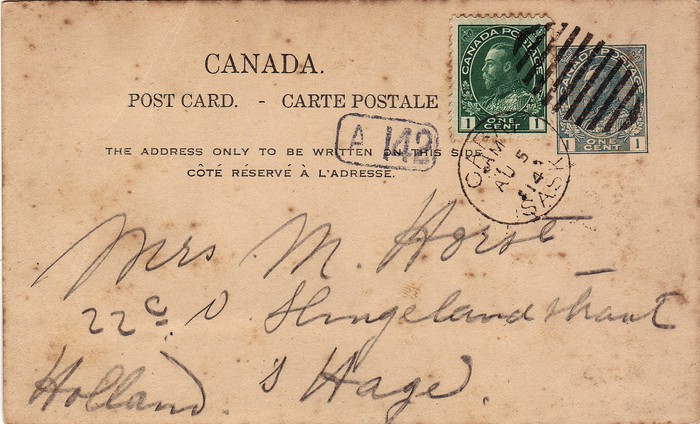 Postcard Front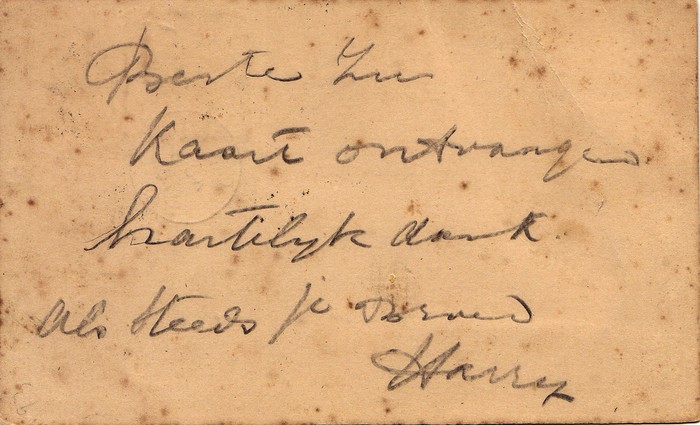 Postcard Back
"Received Card. Many Thanks. As always."
Fonds/Collection: GSHC 004.003
Postcard Message (Translated)
Dear Sister,
Received Card. Many thanks. As always,
Harry
Sender: Harry Horst
Addressee: Martha Elisabeth Horst
Origin: Cabri, Saskatchewan
Destination: The Hague, Hollan
History
This card was mailed on August, 1914 from Cabri, Saskatchewan to Martha Elisabeth Horst, Harry Horst's sister, in The Hague. Martha was born August 7, 1872 in The Hague. According to the municipal records, she took in boarders at the address on the card.
Heinrich 'Harry' Steven Gerhard Nicolaas Horst was born in The Hague on January 12, 1874. He was married on October 20, 1896 in Utrecht to Johanna Wilhelmina Overdijking who was born May 3, 1872 in Utrecht. According to the Hilversumsche Courant, in 1900 Horst ran a fish business in Hilversum called "De Gooische Vischhandel". He, his wife, son (probably Henry J.) and daughter (Hendrika Johanna Elisabeth, born August 9, 1905 in Hilversum) arrived in Quebec harbor on October 24, 1908 aboard the Tunisian. Horst farmed the SE 1/4 and SW 1/4 of S-30, T-21, R-19, W of 3rd in Saskatchewan. According to the 1911 Census, he owned a $2000.00 life insurance policy, had crop insurance, and employed a few workers. (His wife does not appear in that census.)
Source
Krijff, Jan. Greetings from Canada: Postcards from Dutch Immigrants to the Old Country, 1884-1915. Vancouver: Granville Island Publishing, 2012
Postcard Style: Undivided Back
Publisher: Canada Post Card
Date Sent: August 5th, 1914