Library Postcards Collection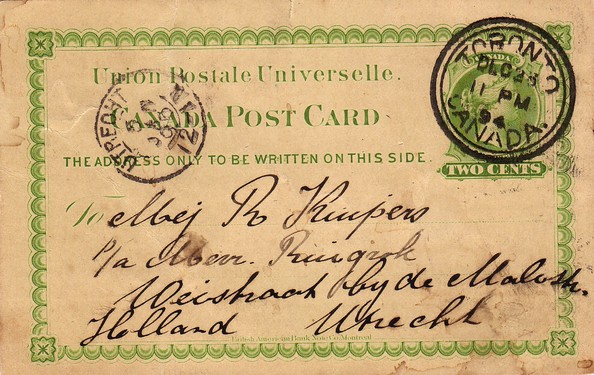 Postcard Front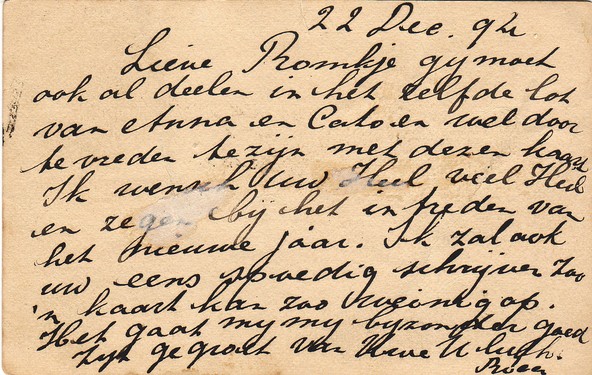 Postcard Back
"On such a card one can write so little."
Fonds/Collection: Campus Art Collection, GSHC 004.003
Postcard Message (Translated)
Dear Romkje,
You have to share the same fortune with Anna and Cato by being content with this card.
Much salvation and blessing with the commencement of the New Year. I shall write to you soon. On such a card one can write so little. Things are going very well with me.
Greetings from you loving Brother.
Addressee: Romkje Kuipers
Origin: Toronto, Ontario
Destination: Utrecht, Holland
History
This card was mailed on December 22, 1894 from Toronto, Ontario to Romjke Kuipers in Utrecht. Romkje Kuipers was born June 17, 1871 in Sneek. She married Alexander Petrus van der Kruk on May 24, 1899 in Utrecht.
Source
Krijff, Jan. Greetings from Canada: Postcards from Dutch Immigrants to the Old Country, 1884-1915. Vancouver: Granville Island Publishing, 2012.
Postcard Style: Undivided Back
Publisher: Canada Post Card
Date Sent: December 13th, 1901