"The New Country Suits Me Well"
GSHC Postcards Collection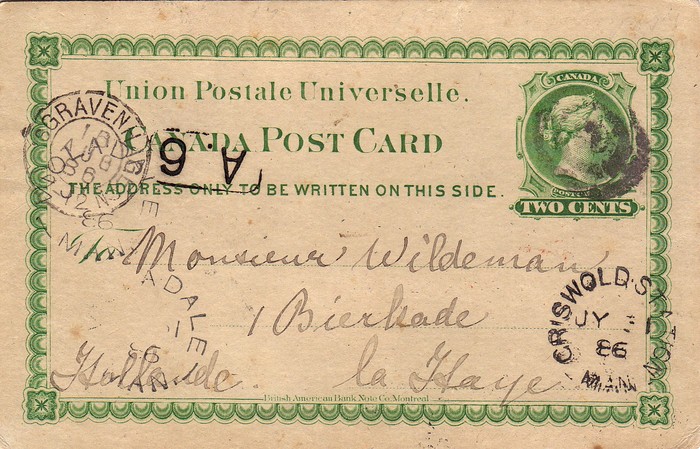 Postcard Front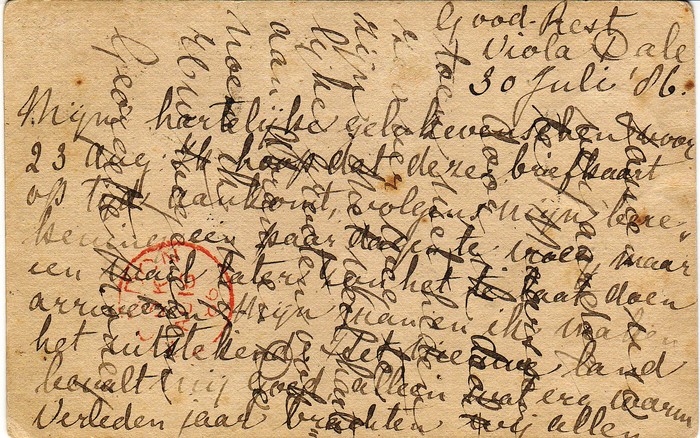 Postcard Back
"The New Country Suits Me Well"
Fonds/Collection: GSHC 004.003
Postcard Message (Translated)
Good-Rest
Viola Dale July 30, '86
My good wishes for August 23. I hope that this postcard arrives in time, according to my calculations a few days too early, but that is better than if it would arrive too late. My husband and I are doing very well. the new country suites me well, only it is very warm. Last year, when we were all together for your birthday in March, I did not think to be so far away now.
With many greetings, also for Abraham Gerogette Money
Sender: Georgette Money
Addressee: Carel Willem Alexander Wildeman
Origin: Griswold Station, Manitoba
Destination: Den Haag, Holland
History
This card was mailed from Griswold Station, Manitoba on July 31, 1886 to Carel Willem Alexander Wildeman in Den Haag. Wildeman, born August 8, 1818 in Den Haag was a retired Major.
Georgette Melville Gertrude Capadose was born August 29, 1860 in The Hague. She was married on May 10, 1886 in Winnipeg, Manitoba to Sidney Wels Money, born September 26, 1858 in Brighton, Surrey. Her father was Isaak Capadose, who became Coadjustor of the Apostles, in Albury, , England in 1876.
Source
Krijff, Jan. Greetings from Canada: Postcards from Dutch Immigrants to the Old Country, 1884-1915. Vancouver: Granville Island Publishing, 2012.
Postcard Style: Undivided Back
Publisher: Canada Post Card
Date Sent: December 13th, 1901