Back to Blog
A new way to think about sacrifice and justice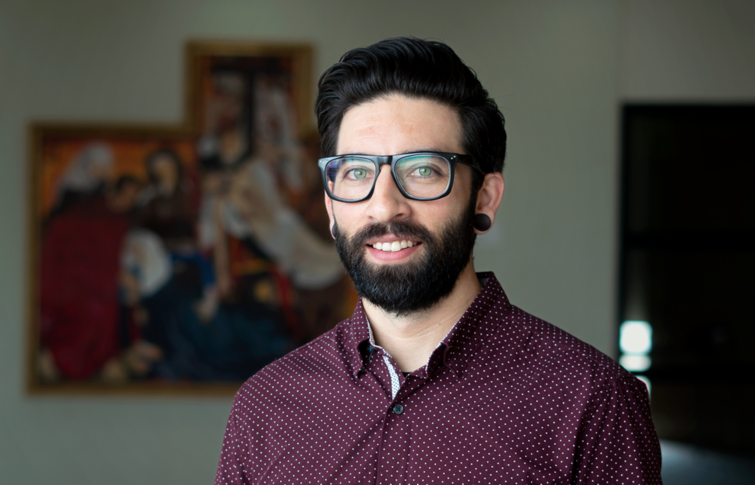 s what we think about biblical sacrifice and justice all wrong? Theology professor Dr. Andrew Rillera thinks that for many Christians, the answer is largely a yes. Rillera has a new book coming out with Cascade Books later this year or early 2023 exploring the subject of Jesus' sacrifice and how what we think about it determines what we think about justice. 
"We think sacrifice is about substitutionary death: something that bleeds needs to die. If that's the case, then that's going to impact what you think justice is and what you think pursuing a just world is. But as Christians, we can go back to our sacred text and say, 'Oh, that's actually not what sacrifice was about.' At King's, part of our vision statement is to build a more just and sustainable world. What does that mean?"
Lamb of the Free ("I didn't know I'd be in Canada when it came out," Rillera, who is American, laughs) is about the liberation Jesus brings. Liberation during Passover. Liberation from our various Egypts. Liberation from Sin and Death. 
"He's not liberating us from what he's going to do to us if we don't let him in, he's liberating us from the conditions of Sin and Death that we're already mucked up in. The theology I'm trying to undercut is that you remedy sin with God through a substitutionary death. People assume that's what sacrifice means because an animal is dying, but it's more complex than that. There simply was no such thing as a substitutionary death sacrifice in ancient Israel."
There are other things about Israelite sacrifices and Jesus's death Rillera wants Christians to know like the fact that there are both atoning and non-atoning sacrifices (some sacrifices had no atoning function but were just sacred meals in the presence of God at the temple).
"Many times when the New Testament authors talk about the saving significance of Jesus's death they do not use sacrificial metaphors, but rather economic or political ones. But when they do use sacrificial metaphors, surprisingly, more of often than not they are referring to the non-atoning sacrifices like the Passover, which had no atoning function.
"The non-atoning sacrifices are the ones the worshippers ate from, but they could not eat from the atoning sacrifices. So when Jesus' death is remembered through a meal, this cannot be an atoning sacrifice. That said, some New Testament authors (especially Hebrews and 1 John) do talk about Jesus in relation to the atoning sacrifices and the Day of Atonement. And once we properly understand the atoning function that certain sacrifices have, then we can see the beauty and theological genius in a text like Hebrews."
Rillera also says there is a link between the ideas of sacrifice and justice in a lot of Christian theology that we need to unlearn. So what was Jesus' death about?
"Broadly speaking, this is a rescue operation, a divine deliverance," Rillera explains. "Jesus is doing something for you that you can't do for yourself, but it's not dying for you. This is how I explain it to my kids: we're stuck in this quicksand of sin and death and Jesus is entering into our condition, sharing in our mortal flesh so that he can elevate us up. So he's saving us from sin and death, not from God. He's saving us from everything that is pulling us away from God."
A transformed notion of justice allows us to enter into an alternative story. So instead of inhabiting a story where everyone needs to be punished, the story instead says that our agency is sometimes stripped from us and we need rescue and liberation and grace and understanding. 
"And we have that in Jesus. We have his Spirit in us and we are able to share in that same mission. That's the calling as Christians: it's not just saving me from some terrible fate, it's elevating us out of the conditions of sin and death so that we can be united with God. So we are able to now go out into the world and see the world through God's view. Which is not just who needs punishing, but who needs deliverance and healing."