Back to Blog
Men's futsal brings home a banner with silver medal in home-turf championship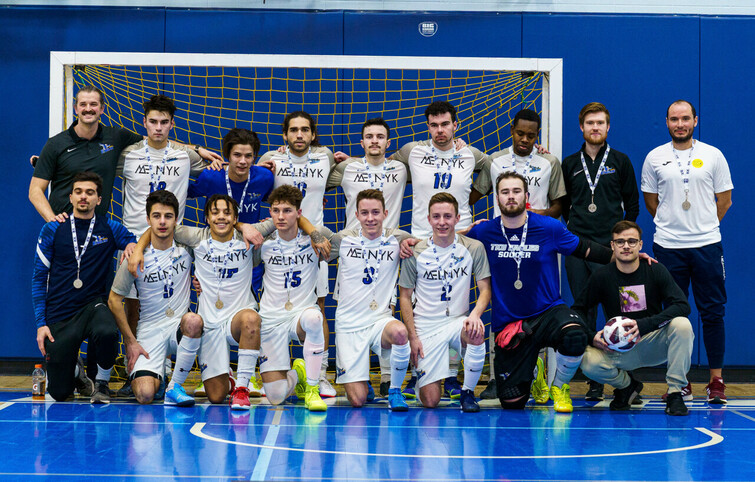 Hosting a championship and winning a banner is all in a weekend for King's men's futsal. The Eagles took home silver, placing second in the league of 12 schools, after a four-team round robin tournament on March 26 – 27. This is the first time the Eagles have won a medal since futsal was introduced as an ACAC sport in the 2011/12 season. 
"The crowd was very loud and on our side and it motivated us a lot," third-year Kieran Toussaint, who scored two goals and won player of the game, says. "We worked hard all season and it was rewarding at the end. We wanted gold, but at least we could come home with a banner."
The Eagles won all three games leading up to the gold medal match against SAIT on Sunday night ultimately losing 7-3 to the Trojans after an exhausting and fast-paced weekend. (Saturday games: 3-2 vs. SAIT Trojans; 5-0 vs. Portage College Voyageurs; Sunday morning: 8-1 vs. Lethbridge Kodiaks.)
"We had a strong lineup. The core group of guys that were returning this year have been around King's futsal for two or three years so I really trusted them to be the experienced ones of the squad. And we had some young talent coming in that were coachable and quickly rose to the top," Todd Van Driel, men's futsal head coach, says. 
The Eagles played in two regional tournaments on February 6 and 19 to place in the championship.
"I think going into the season I still didn't know where we fit because we hadn't played our regional opponents Grande Prairie or NAIT before and they hadn't played anybody else. We ended up going to Lloydminster to play Lakeland for a couple of games and I think that weekend was our confirmation that we have a good squad because Lakeland's well established; they've been in the league since the beginning. After that weekend it's like a light switched on in the guys and they immediately bought into the process, they bought into the game plan, they felt a sense of confidence. And that was huge going into the championship tournament."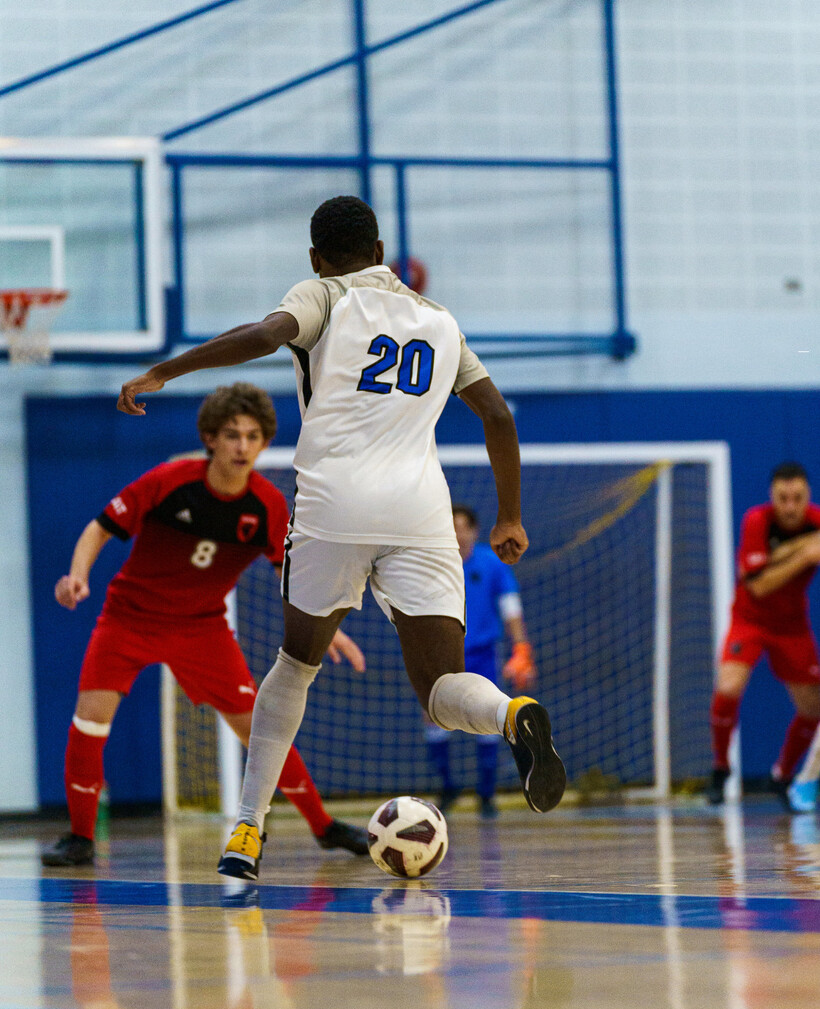 King's was given a very quick turnaround to plan the championship after the bid to host was awarded a few weeks previously when Lakeland College became unable to host.
"I've always thought that our department does really well under pressure. I think when given an assignment of some kind we definitely get the job done and our attitude is to kind of surpass what was done previously," Van Driel says. "It was a lot of work. We had to juggle planning the futsal championship, men's and women's volleyball playoffs with two full-time staff members who are also volleyball coaches and were focusing on that, and all the while we were also planning our athletics banquet. So we had three huge things on the go. It was a lot of work for a small department, but I think everybody did a really good job."
Although the women's team did not place in the final four to play in the championship, the team was involved in making the weekend run smoothly. 
"In terms of treating the visiting teams well we crushed it, better than any other institution," Van Driel says. "It's the first time we've ever hosted a futsal championship and years since we've hosted any type of championship. I think if this had been a bigger tournament we wouldn't have been able to do it in terms of treating the teams well, but we could do things like interviews and laundry service. Treating the teams that were here as best as we possibly could."