Back to Blog
Badminton student Narayan Ramdhani headed to Commonwealth Games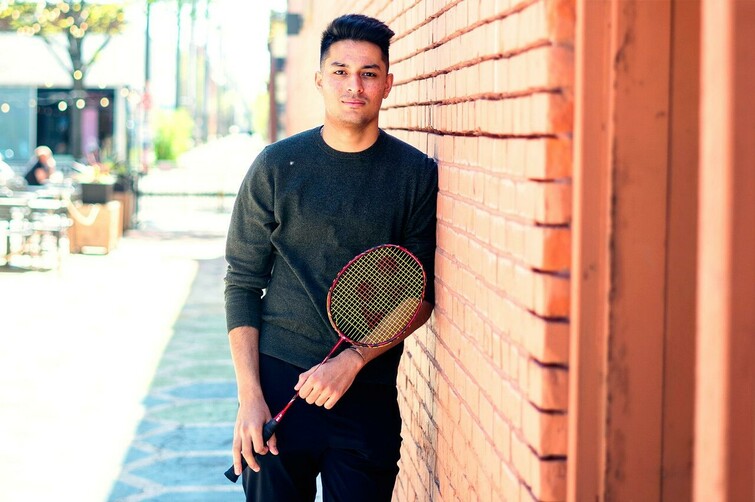 King's business student and Eagles athlete Narayan Ramdhani is headed to the Commonwealth Games this July and August in Birmingham, UK. The badminton player, (ranked 288 in the world in men's singles, 223 in mixed doubles, and 389 in men's doubles) along with his sister Priyanna will be representing Guyana at the Games.
This is Ramdhani's second time at the Games as he also represented his home country at the Gold Coast Commonwealth Games in 2018. He is currently the No.1 ranked player in Guyana.
"In Australia I won my first match but lost the second to a guy from Canada. He was in the top 50 in the world then," Ramdhani recalls. "But I see him all the time now. We're friends."
To qualify for this summer's Games, Ramdhani and three others from Guyana, including Priyanna, participated in the Pan Am Games in El Salvador this past April. The team didn't medal, but took Guyana to a new level.
"It's the farthest I've ever reached," Ramdhani says. "I won two matches in singles. I made it to two third rounds. And for doubles, I made it to the quarter finals with a guy from Calgary named Nicholas who plays for Trinidad. In the match with my sister, we got to the third round as well, so in every round I played I got a win."


Ramdhani has played with the Eagles since 2018, shortly after the program began in 2014. He was recruited by head coach Naeem Haque who had corresponded with Ramdhani when he was applying to different schools in Canada and had kept in touch with him.
"I ended up at King's through Naeem," Ramdhani recalls. "I'd spent two years in Vancouver at Douglas College playing at the Shuttlesport Badminton Academy, but I wanted to go to university so Naeem offered me a scholarship. I love King's and am glad I came here; King's has been good for training and I like the community here."
Ramdhani is ranked No.1 at both King's and in the ACAC, and No.4 nationally with CCAA. He is this year's ACAC Player of the Year and CCAA's All Canadian, and has won numerous awards during his time at King's.
"Coming into King's, we didn't really have any badminton so I'm glad I came and started a bit of a legacy here because I went to three straight nationals and every year I got All Conference and I got All Canadian and Player of the Year this year."
Ramdhani has lived and breathed badminton his entire life. His late father, Gokarn Ramdhani was the president of the Guyana Badminton Association and was Ramdhani's head coach growing up and also was the head coach of the Olds team where Prianna plays.
During Ramdhani's badminton career, he has won all of his age group tournaments locally from the U11 to the U19. His highest Junior U19 world ranking was No. 53, Pan American junior rankings No.3, and Caribbean junior rankings No.1. He is the National Senior Champion for Guyana from 2014 to date. He also won the Guyana National Junior Sportsman Award for the year 2015. His participation in high-level competitions and achievements at the national, international, and university level since childhood are extensive enough to fill four pages.

"Since 2011 I've been travelling around the world playing in tournaments, so all of that built me up to where I am now. I was always around the sport," Ramdhani says. "It's good that I started young because it doesn't really bother me to play [in international tournaments] anymore. It's really fun and it's a big deal when you're playing against top players from around the world."
The Commonwealth Games take place July 28 to August 8 and can be livestreamed online.