Back to Blog
Ukrainian music expert Dr. Melanie Turgeon named full professor at King's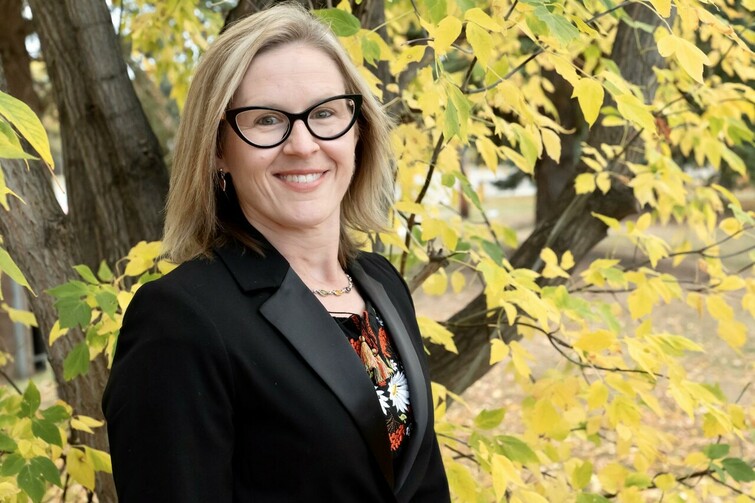 With twenty years of research, teaching, and scholarship at The King's University, not to mention national and international recognition for her work as a highly sought after Ukrainian music expert, Dr. Melanie Turgeon has been named full professor. Turgeon is the thirteenth of King's current 46 professors to receive this designation and the third female.
The majority of her scholarship has focused on three areas: her work with and for the Ukrainian Catholic Church; the study and promotion of Eastern European music that has been suppressed due to Communism and other political factors; and composition, collaboration, and programming.
Turgeon serves as a cantor in the Ukrainian Catholic Church, and has taken on an instructional role in recent years, including a massive project creating a 481-page bilingual hymnal that has been distributed throughout the world.
"Cantoring in North America is primarily an oral tradition. There are few resources for teaching one how to do this and having trained cantors is crucial to the future of this church," Turgeon says.
She has also been working on a major project on the Divine Liturgy of St. John Chrysostom—a monumental resource for the Ukrainian Catholic Church as it fulfils a huge need in the diaspora for bilingual books. The ultimate goal is to create a school for training people to be cantors in the Ukrainian Catholic Church. Turgeon also hopes to launch a two-year Certificate of Eastern Christian Worship Program at King's.


During her dissertation, she investigated how music, particularly sacred music, was suppressed during Communism. This resulted in the book Composing the Sacred in Soviet and Post-Soviet Russia: History and Christianity in Alfred Schnittke's Concerto for Choir. The research completed for the book also contributed to a major presentation at Goldsmiths, University of London. 
In 2010 she founded Kappella Kyrie Slavic Chamber Choir which has a commitment to upholding Slavic sacred music that has been suppressed for political reasons and keeping it alive for modern generations. Kappella Kyrie has gained national recognition by placing first in the 2019 and second in the 2015 Choral Canada Competitions.
Other work includes celebrating more than 25 years of performing and service to the community with Heruvymy Ukrainian Female Quartet. During the first 15 years with this group, Turgeon composed or arranged the majority of the music they sang.
Turgeon also serves as the national director for the Ukrainian Art Song Project (UASP), which in 2017 commenced its Summer Institute at the Royal Conservatory of Music in Toronto. This week-long intensive master class attracts some of the most promising rising opera singers from North America and Europe.
"As a scholar of Ukrainian descent, I feel obligated to make a conscious effort throughout my career to ensure Ukrainian classical and sacred music obtains its proper placement on the world stage, alongside other famous composers," Turgeon says.
In 2015, she started a formal partnership with Professor Mark Bailey from Yale and co-founded "Ukrainian Voices: Music of a Nation." The most substantial collaboration thus far has been a joint presentation on Ukrainian Baroque composer, Artem Vedel'.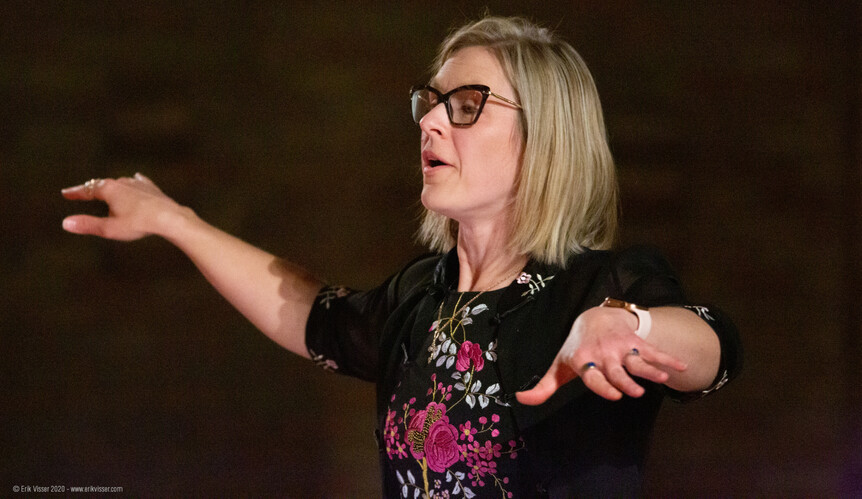 The following are Turgeon's recollections of what drew her to King's and how teaching at the university has impacted her life.
My journey at King's began 20 years ago. In the late winter of 2002, while in the midst of toiling to complete my coursework for a Doctor of Musical Arts Degree at the University of Illinois, a close colleague from my University of Alberta days, Tim Shantz, contacted me and said he was coming to town to audition for the doctoral program. He shared he was leaving his position at The King's College in Edmonton, and he strongly encouraged me to apply. 
Because I was born and raised in Edmonton, plus my husband had a great job he could return to here, I applied and found myself flying home for an audition on May 1, 2002. I was successful and was offered the sessional position. I then defended my prelim exams on August 29, flew home to Edmonton on August 31 and began my contract with King's on September 1. How can one not see the hand of God in this process?

"For I know the plans I have for you, declares the Lord, plans to prosper you and not to harm you, plans to give you hope and a future" (Jeremiah 29:11, NIV).
This sessional position soon became a full time appointment which led to a tenure-track position. In my early years at King's, my role had a lot of assortment because there were only two choral ensembles, so I enjoyed teaching a variety of classes to fill that third spot, including the choral conducting classes, theory, aural skills, and music appreciation. 
Since the founding of the Community Chorus in January 2007, my teaching has been primarily focused on conducting the three choral ensembles, with diversity generated by advanced choral conducting and other tutorials.
By age four, I was already taking music lessons and in high school started studying conducting, which is very atypical. Customarily students start introductory conducting classes towards the end of their undergraduate education. At age 15 I enrolled in a two-week intensive conducting seminar, taught by the conductor of the Kyiv State Opera and Ballet Theatre. I took this seminar for three summers while in my teens and was already conducting a women's chorus in high school. 
Looking back, I am shocked that I had the confidence and desire to take these classes with people who were 20 - 50 years older. Thankfully, I realized I had a talent for and an interest in conducting and I wanted to pursue it.
I live by an ideology that life as a Christian leader has three important dimensions to it: service, respect, and openness. 
During my tenure at King's, I have come to realize how life as a Christian leader, scholar and teacher has much to do with using my God-given talents to serve others. I must care for the gifts bestowed upon me and I must recognize them, not only in myself, but also in others; namely, my students, colleagues and administrators.
Being a professor at a small institution has made me realize how much opportunity there is for service and sharing of gifts, particularly because students come to you more often with questions and needs. You have a glorious opportunity and obligation to teach and lead them by way of your actions and example and with the gifts you have received.