Back to Blog
Summer youth camps give Eagles a chance to serve their community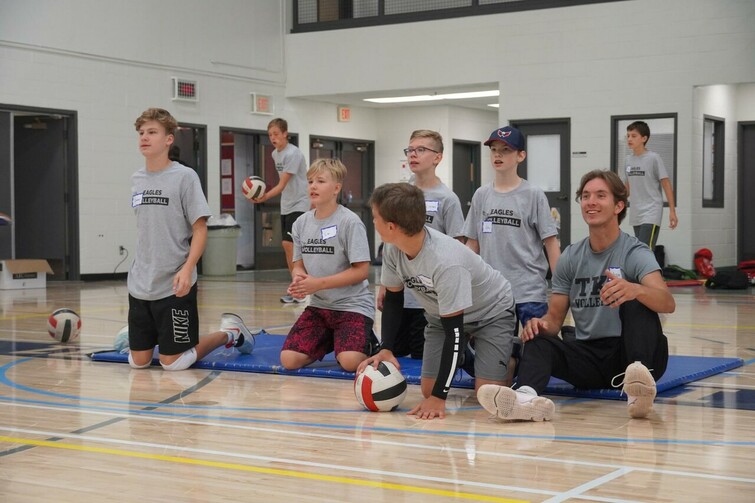 Camp is a summertime staple and at King's, athletes spend a few of their summer days helping young people hone their skills at badminton, basketball, and volleyball.
Lauryn Draker, a second-year libero studying social sciences and kinesiology, says last summer was her first time coaching at volleyball camp. She was inspired by one of her own junior high teachers to mentor young people.
"I was really shy and my teacher kind of seemed the same as me, but when she was at the front of the classroom she became really outgoing. It was something I looked forward to and is something I am still working on," Draker says. "She listened to my problems and was always there for me and I want to be that as a coach, a player, and a teammate—being there for the kids in our camp and my teammates on and off the court. I think we all value that a lot as King's athletes."
Eagles Youth Camps take place annually each August with youth separated into groups of 11 – 14 year olds and 15 – 17 year olds. The week-long programs focus on skills training and scrimmages but also provide time each day for devotions.
"We'd take about 15 – 20 minutes for devotions," Kaiden Aceron says, a fourth-year social sciences student and volleyball libero. "We had some good conversations with the kids about faith, but also about life like, 'This is what we go through as guys in university, this is what we went through as guys when we were your age, and this is what we have all learned since then.' Just that passing on of knowledge and experience."
Draker adds, "The kids got so excited to talk and ask us about university. They asked us so many questions about what we do as athletes and we asked them so many questions about their lives. That was probably one of the most beneficial parts—sitting down and opening up with the girls because then you saw how they grew, physically and mentally, throughout the camps, that was one of the best feelings."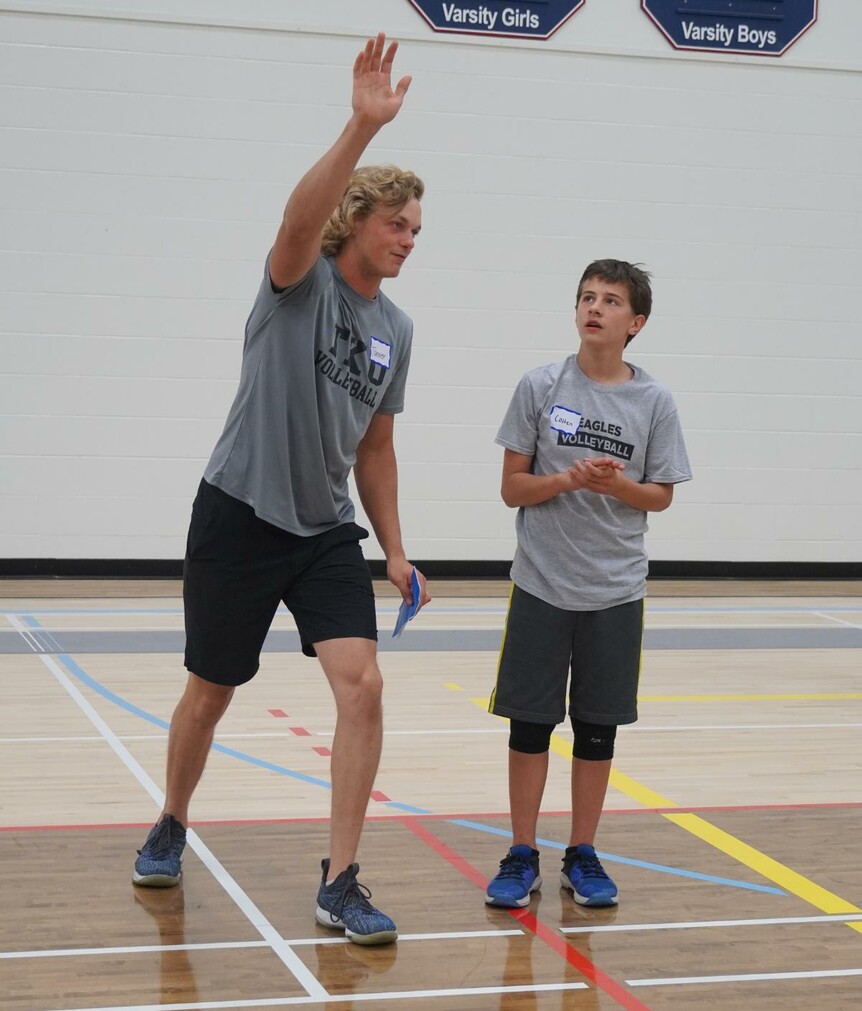 At the beginning of the week, many of the youth were shy during devotional time, but the caring and acceptance shown by their coaches broke down barriers.
"I really enjoy sharing faith," Nic Gregersen, third-year social sciences student and basketball guard, says. "I'm going to have a lasting impression on these kids. It makes it a lot easier for them to talk about faith when they see someone older who's been through it and is not sugarcoating it. They can tell if you're being fake."
When it comes to passing on their skills, the athletes rose to the challenge of working with all levels of ability. Draker says working with a vast age group was a bit of a shock at first because of having to deal with so many different skill levels.
"It seemed like not so long ago, we were the campers. So we're taking what we've learned from our mentors and becoming those mentors. It's an exhilarating feeling. You feel so accomplished," she says.
Gregersen is an older brother and the oldest male cousin in his family, so he's used to being around younger kids. It makes coaching and breaking down the game in a way that is understandable easier for him.
"I remember being in that exact same position of being a young camper and looking up to the older guys," he says. "It's all about being positive in the way you talk to these kids because you have such a big impression on them. It doesn't matter if they keep messing up and aren't doing it right, it's all about having fun for them at that age and that they see you care."
Aceron says he's known since eighth grade that he wants to be a teacher and a coach. He was a bit of a loner back then but some influential teachers took an interest in him and helped him discover his passions. Now he makes sure to watch for any kids in the camps who appear similar to the way he was so he can give them the extra dose of encouragement they need.
"I definitely keep an extra eye out for those kids that were like me because I know that they're probably not the first ones to volunteer for drills or to put themselves out there. So I give them a little bit of extra grace because I know where they're coming from," he says. "I always look forward to the youth camps. It's a really good experience for me knowing that I'm going to be a teacher and eventually a coach. It's a bit of an introduction to what my future's going to look like."


Eagles Youth Badminton Camps run July 8 – 10, 2022
Register here

Eagles Youth Basketball Camps run August 15 – 18 &
19 – 21, 2022
Register here

Eagles Youth Volleyball Camps run August 22 – 25, 2022
Register here