Back to Blog
Alumna Feature: Recent Graduate, Ludivine Maniraguha
Jun 16, 2020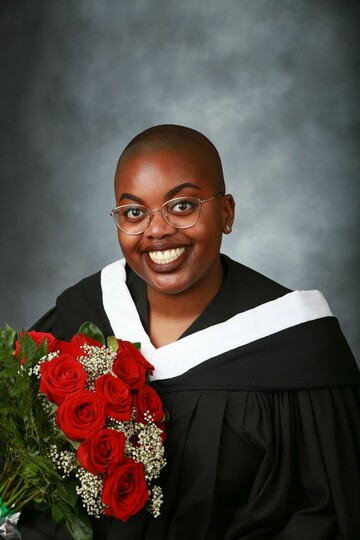 Another month has passed and we have waved our 2020 graduates goodbye as they enter the next part of their lives. I reached out to one of our recent graduates and she has generously shared all about what she has been up to and what her plans are next.
Ludivine Maniraguha graduated from the 4-year Bachelor of Arts in Psychology and Communication Arts program. Let's see what she is up to now!
Previously, before the world came to an abrupt stop and school was shut down, I was hired as a Community Wellness Assistant. Since the term wasn't over, I had to figure out how to continue to facilitate conversations of wellness. After a lot of contemplation and ideas coming from my roommates, friends and siblings, I decided to start Weekly Wellness Workshop! Weekly Wellness Workshop was a weekly live Instagram session where I would choose a topic and a guest to question on that topic and have an open and honest conversation for others to watch. It was basically an online talkshow! Topics such as confidence (and how that has shifted during quarantine) and men's wellness were addressed in Weekly Wellness Workshop. After the term was over, I had planned to end these live sessions, but the feedback from the viewers were very encouraging and positive. So, I decided to keep going! However, I rebranded the live sessions to Locked up with Ludivine! Locked up with Ludivine had the same premise and goal as Weekly Wellness Workshop, and topics such as "hair and why we care" and "relationship dynamics during quarantine" were addressed. Having had a prompting from God, through prayer and meditation, to delete my social media account, Locked up with Ludivine has now come to end.
Last summer, I had a prompting to begin building community for the young girls in my community/church community. After writing up a proposal for my project (which I had written during a statistics class — some good things can still come out from stats!), I sent it over to my lead pastor and youth pastor to have the leaders of the church community to support me. When the summer began, so did the community girl's youth group. From going to trampoline parks, movie nights and weekly journaling sessions, I developed a strong relationship with the young girls of my community and a stronger sense of leadership in the church.
This summer, the youth pastor that has been leading my home church for the last 8 years is moving onto new endeavours. As he moves to make new changes in his life, he has asked me to host the youth group zoom sessions for the entirety of the month of June!
I am so excited to see what else God has in store for me in terms of my involvement in my church community with the youth and their families.
I for one am extremely proud of all the accomplishments our grads have achieved throughout their time here at King's. I have known Ludivine for quite a while throughout my university journey and I have no doubt that she will do amazing things in life and light the paths of people she comes across. With that, I am so excited to see what all our other King's Alumni embark on next in the journey of life. A huge thanks to Ludivine for sharing her passions and plans with us. Until next time!
Yours truly,
Bianca