Back to Blog
Campus Visits
Oct 12, 2021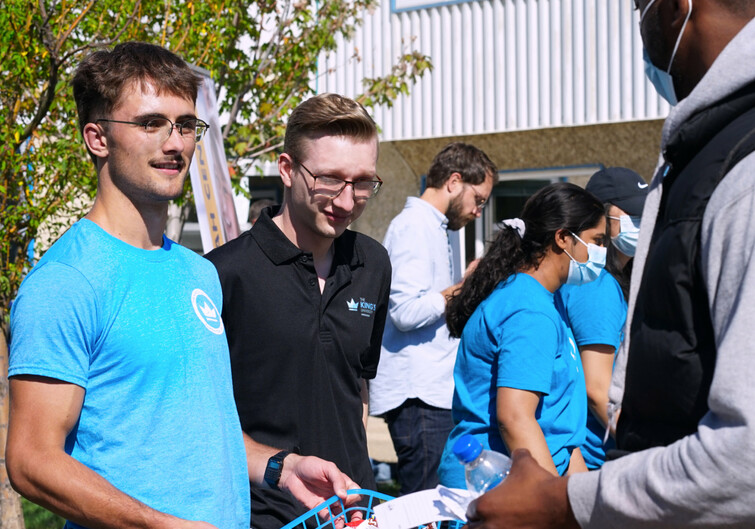 Hello prospective students,
Have you had the chance to visit King's yet? If not, we have some upcoming events that might interest you!
Outdoor Open House
Our Open House this year is on October 16th which is just in a few days! Come visit and learn about King's unique programs, meet some of our professors and take a tour of the campus as well as our residence. You can also speak with our admissions staff and have them answer questions you may have. On top of all of that, application is free if you attend!
King's View Days
This year, we're running our view days as a hybrid event. You can join our Admissions team this Thursday evening for a virtual information about what it's like to be a student at King's. On Friday, you have an option to come to campus with a chance to sit in on classes and take a tour of our campus. We have several of these running throughout the year so check out our website to see which date works best for you.
Music King's View Friday
If you are specifically looking to go into our Music program, this visit is the perfect one for you! You can experience what it's like to be in the program by sitting in on a couple of music classes, attending our Friday concert series, Noon Tunes as well as meet some of our Music faculty members.
Personal and group visits
If you're unable to attend the events previously mentioned, we can certainly still book you in at a better time. Please contact our Admissions team or use our online booking system to schedule a visit with us.
I hope that you can attend one of our events or book a personal visit to know what King's has to offer. If you want to learn about King's and absolutely can't attend in person, we also have a couple of virtual events such as King's Info Night and Student Finance Info Night. Check out our Upcoming Visit Events for all the dates! We're looking forward to meeting and working with you!
All the best,
Erykca