Back to Blog
What's Happening on Canada Day
Jul 01, 2016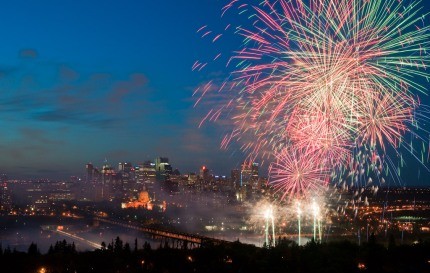 Hello King's, 
Are wondering what's going in Edmonton for our 149th Canada Day? Look no further! This blog post has you covered for all the fun and exciting stuff that Edmonton has to offer on July 1 so that you can celebrate what it means to be Canadian!
1. Lighting of the High Level Bridge and Canada Day Fireworks
The River Valley will be illuminated with light art and accompanied with music, all culminating with a magnificent firework display over the North Saskatchewan River. Head to your favourite viewing site and enjoy the evening with friends and family! 
2. Canada Day at City Hall
Looking for free family fun for all ages? Head to City Hall for some Canada Day activities! Look forward to a Canada Day ceremony in the City Room, live music and dancing, kids crafts, tours, displays and give-aways!
3. Canada Day at the Edmonton Valley Zoo
There is no better place to celebrate Canada Day then at the Edmonton Valley Zoo! Visit the Canadian animals, eat red and white cupcakes, and enjoy other family activities and entertainment! Even if you've been to the zoo before, there is plenty more to discover on Canada Day!
4. Canada Day at the Muttart Conservatory
If you visit the Mutant Conservatory on Canada Day, you can enjoy live music, crafts, and face painting. And if that isn't enough, there will be treats and goodies available throughout the day. This is a perfect family event and a great stop on your Canada Day activity tour!
5. Dominion Day at Fort Edmonton Park
Celebrate Dominion Day in the traditional Edmonton way! Watch an authentic parade, toast the Queen, sing Happy Birthday, and take part in other royal activities. Fort Edmonton park is fun all year round, but Dominion Day provides a deeper insight into Canada's rich past! 
There's really no excuse not to do something to celebrate Canada Day this year! Even if you've been to one of these places before, they often offer new and different things that you can only experience on Canada Day! Also be sure to let us know what you ended up doing in the comment section below! 
Happy Canada Day! 
Josh
*Photo Credit - The City of Edmonton