Back to Blog
Farmer's Markets & Food Trucks
Jul 24, 2018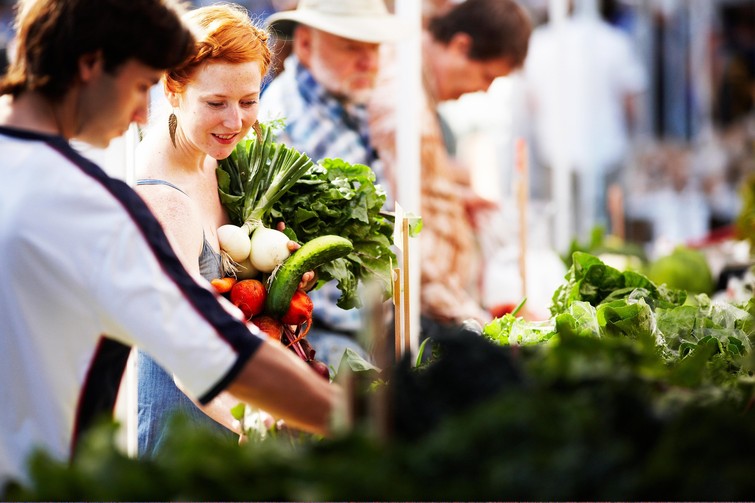 There's something really nice about enjoying the weather and walking around an outdoor market with a friend. Whether you're there to buy fresh produce and groceries, check out local hand-made goods, or just try some samples and take it all in, here are some great Edmonton farmer's markets for you to check out over the summer!
Old Strathcona Farmers' Market
This one runs all year round! It's actually mostly indoors, but with lots of windows and huge garage doors open it still feels like a nice summer day. This is Edmonton's largest market. It takes place every Saturday from 8 a.m. - 3 p.m., and there's free parking!
Grand Market on 124 St
This is a newer addition to Edmonton's market roster, but it quickly developed into a beloved shopping experience. This year, it's expanded to include two locations! Check out 124th street every Thursday from 4 p.m. - 8 p.m. and every Sunday from 11 a.m. - 3 p.m. The Grand Market is entirely outdoors and dog friendly! There are over 50 vendors that change weekly, 2 - 4 food trucks, and live entertainment. Sounds like a great way to spend the day!
City Market Downtown
This is Edmonton's oldest market. It's been around for over a century! City market runs all year, so it has two locations: one outdoor for the spring and summer and one indoor for the fall and winter. In 2013, National Geographic Traveler named City Market the Best Farmers' Market! Check it out every Saturday this summer along 104th Street from 9 a.m. - 3 p.m.!
Edmonton also boasts a ton of food truck options, found all over the city and at events like these farmers' markets. Street Food App will tell you the Top 10 and Newest food trucks, but it will also tell you what food trucks are open right now and where to find them! You can check that out online or you can download the app for your phone, so you always know what the closest food truck is.
Here are some favourites from staff in the Admissions office, to get you started:
Bon Appétit!
                Emily