Back to Blog
Homemade Ice Cream: 2 Flavours of Vegan Banana "Nice Cream"
Jul 31, 2018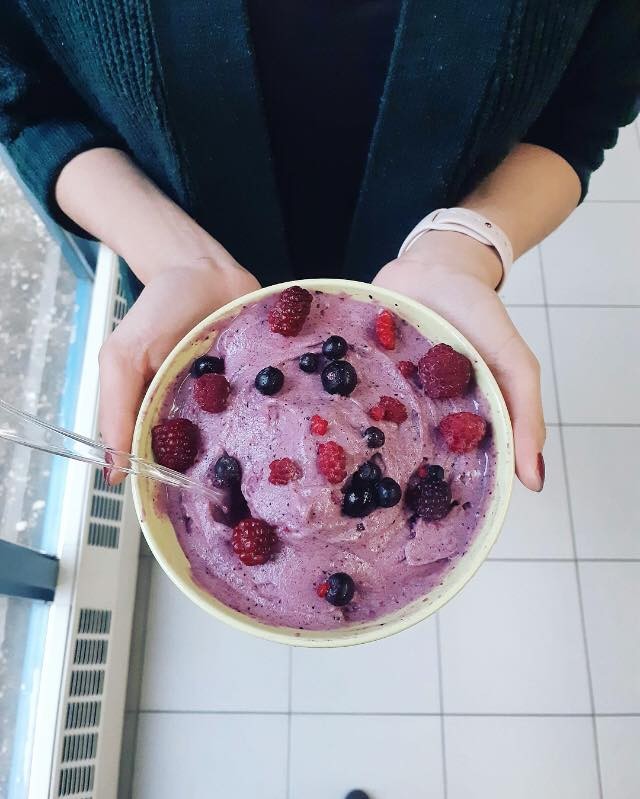 Want a fun summer activity and a snack all in one? We've got a series of homemade ice cream recipes coming your way, and we know they're good because we tried them all right here in the Admissions office! If you have an ice cream maker at home, you can use that, but don't fret if you don't! All of our recipes can be made by popping the finished product in the freezer overnight.
Our first recipes are a great vegan ice cream option (but can also be made with dairy if you prefer) that you might have heard of: "Nice Cream"! We tried some of the recipes found on this blog, but I'll walk you through them here, too. You want to start with a basic recipe, and then add a few things depending on what flavour you're going for. We tried Very Berry and Pina Colada! Scroll all the way down for pictures of our results.
Here's what you need:
Base Recipe:

2-3 overripe bananas, chopped and then frozen
milk or vegan milk replacement of choice (optional)
a pinch of salt

Very Berry:

add 1 cup of frozen berries
add 1/8 tsp of pure vanilla extract

Pina Colada:

replace milk of choice with ¼ cup of canned coconut milk
add ½ cup of frozen pineapple
add some shredded coconut (optional)

Total Time: 5 m (plus optional freeze 30 minutes-overnight)
Yield: 1-2 servings
Peel and cut bananas that are turning brown, and then freeze them in an airtight bag or container. You can even freeze a few batches so you have some ready to go whenever you get a craving for a cool, sweet treat! To make the ice cream, throw around 2-3 frozen, chopped bananas into a blender or a food processer, then add a pinch of salt and 2-4 tbsp (or more) of your milk or milk replacement of choice, and blend until the texture is like soft-serve ice cream. You can serve it immediately, transfer it to an ice cream machine, or transfer it to a container and freeze it for an additional 30 minutes or overnight, depending on what texture you want. Scoop your nice cream with an ice cream scoop and enjoy! You just made a delicious, healthy, ethical treat!
Very Berry: Make the base recipe above, and add 1 cup of frozen berries and 1/8 tsp of pure vanilla extract.
Pina Colada: Make the base recipe above, using 1/4 cup canned coconut milk as your milk of choice. Also blend in 1/2 cup frozen pineapple. Add shredded coconut as a garnish or mixed in if desired.
Let us know if you try this recipe! I want to know if you liked it and how it turned out.
Happy snacking!
Emily