Back to Blog
How to DIY Deck out your Dorm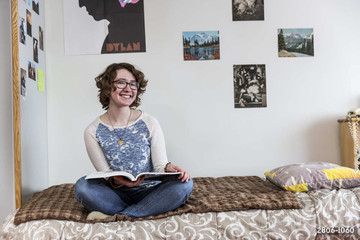 Hey future students,
Did you know that first-year students who apply to residence and pay their residence deposit by June 15 are guaranteed a tower room? We're now past the deadline, so if you haven't paid your deposit yet, be sure to do it quickly if you want to live in residence this year! And who wouldn't want to live in residence? You may know that The King's University is actually a refurbished hotel, and so the residence rooms are one of the greatest perks that come with living in a renovated hotel. Why you ask? Space for days. I'm talking about closet space, floor space, and wall space. While we have single occupancy rooms available, double occupancy is all you need to enjoy spacious (and affordable) living in residence.
Whether you've paid your residence deposit and need decoration ideas ASAP or if you're in the middle of high school and dreaming about your future dorm room, these decoration ideas are for you!
How to Present Pictures Perfectly  
Photo banner
Nothing says "dorm sweet dorm" like pictures of family and friends from back home. Everyone in residence will be hanging their photos with pride, but you can take pride in your innovative photo banner...that you made yourself!
Learn how to make a photo banner here.
Photo map 
This DIY project is perfect for all international and domestic adventurers. All it takes is pasting your photo on a map and shaping it into the province or country its taken from and BAAM--you've achieved the ultimate spin on hanging photos. A fun spin on this idea for the adventurers of heart who haven't traveled yet is to include photos of dream destinations. 
Find out more here! You're only a map away from completing this DIY.
How to Organize Outstandingly 
Hanging clipboards
Organization is an essential part of succeeding in university, so why not get organized aesthetically? DIY decorate some dollar store clipboards however you want and hang them with command hooks. It's that easy!
Get inspired by checking out these hanging clipboards.
Cord organizer
Another mess typical for a residence room is an endless number of cords. You can keep your wires untwisted and safe from prying fingers by designing your own cord organizer. It's as simple as poking holes into a box, adding a power bar, and pulling your cords through. You can decorate this DYI however you want, so it's perfect for any dorm theme!
Start beautifying your power cords by checking out cord organizers here. 
How to Up-cycle in Unapologetically Awesome Ways
T-Shirt doormat
 Turn your old T-shirts into a cute doormat. Learn more here.
Brick bookend
Did you know that owning a snazzy bookend can be as easy as spray-painting a brick? Check it out.
Beaker light 
If science lights up your world, you need to check out this desk lamp that was a beaker in its past life! 
Whatever project you decided to take on I believe you can DYI do it!
Stay Golden,
Marissa Hall