Back to Blog
How to Stretch Your Student Budget
Feb 03, 2017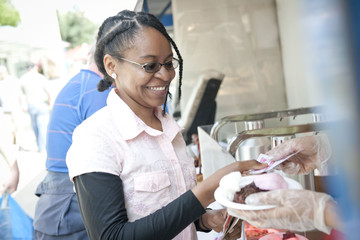 Hey students!
Adjusting to life on a student budget can be somewhat stressful – especially if you don't think ahead about it! But, if you get in the habit of thinking about your money and making strategic purchases, you may be surprised at how far you can stretch your money! Although there are tons of tricks and tips that you can follow to make your money last, here are some that I have found to be really helpful.
1. Always go shopping with a list. You might not think that this makes a difference, but stores put a lot of effort into creating beautiful displays that are designed to make you want to buy stuff, and products are packaged in ways that will make them the most appealing. Before you go, make a list of what you need – and stick with it – the list is what you actually need, not what you think you need in the moment.
2. Don't get groceries when you are hungry. When people are hungry, they generally don't crave vegetables – they crave quick and easy junk food. When you shop while hungry, you are much more likely to fill up your cart with snacks and other high calorie not-so-healthy options that will quickly eat up your grocery money. Do yourself a favour – don't shop on an empty stomach!
3. Cut back on your daily (pricey) morning latte. So convenient, and so delicious, those fancy coffee shop signs practically shout your name in the morning when you're looking to get your caffeine fix. But – spending money on coffee regularly adds up! Let's say you only get coffee in the morning a few times a week – even if you only go twice a week and spend $4 each time, that adds up to $416 each year! Save coffees out for when you're catching up with a friend and make your morning coffee at home (your wallet will thank you).
4. Look for coupons and sales. Why pay full price if you don't have to? Spend some time going through the flyers and check out which stores will give you the best deal on what you need – and, keep your eyes open for coupons! Coupons are a university student's best friend.
5. Sign up for member benefits. The Leisure Access Pass gives Edmontonians with a lower income free access to the City of Edmonton's rec centres, ice rinks, pools, and attractions - like the Valley Zoo and Fort Edmonton Park! The Student Price Card is also great – only $10/year, it gets you discounts at tons of stores. AMA, anyone? AMA members can get sweet deals at lots of places in Edmonton, like restaurants, businesses and attractions! And some cell phone service providers also can get you deals, so check yours out! If you have the option to pay less for something, why not?!
These are some tips that I have found really helpful to make my money go farther, but if you have other ideas of how to get more bang for your buck, let me know!
Cheers,
Tara