Back to Blog
Going From Being a Commuter to a Residence Student
Feb 06, 2017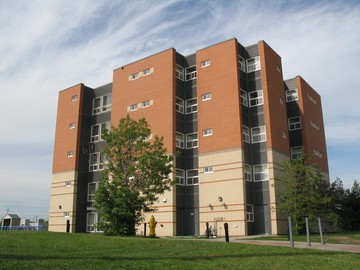 Hey King's!
I am really excited to be writing this blog today! For most of my undergraduate degree I have been a commuter student. I have experienced both bussing and carpooling with other students to make my way to school every day, and let me tell you…living on campus is a really nice change.
For most students, they will start off as residence students and eventually become commuters, finding a house off campus with other friends. But there are a few students that do the opposite and end up living in residence half way through their degree. In my case, I decided to move into and experience residence in my last semester of my undergrad.
I have gotten a lot of questions from friends and coworkers about why I decided to make the change, and in my last semester especially. For those who know me, they knew that my commute to King's was a very long one…two hours one way to be more exact. I did not find the commute too bad because I learned to read and do homework on the bus. I did not want to waste any time that could have been used to do my school work. Now that I live in residence, I have come to realize that the four hours I would spend daily commuting to and from King's adds up to a lot of time where I could be studying, doing school work or spending time with friends. I am not saying that being a commuter is such a bad thing, but living in residence is a lot better than I had thought.
As a commuter student, I really enjoyed having the separation from my school life with my home life. I was able to relax at home and do my homework without getting distracted by my friends. I also found that I was out and about in the city a lot more than I currently am. Being a commuter student for so long, I thought that if I had moved into residence that I would not have any privacy, that I would focus less on my studies and just be consumed by the residence student lifestyle. When I was debating whether or not to move into residence, I had talked with one of my current roommates and she helped me make my final decision to move in. 
Although it has only been a month, all of my assumptions of living in residence were thrown out the window. As an older student, I decided to move into the Apartments residence at King's and I actually love it. I have some awesome roommates and although at times it can be a little difficult to focus on studying and doing school work, it is definitely manageable. Like I said earlier, I save quite a bit of time every day on commuting to and from school, I'm also more independent, I'm closer to school, and it has become a lot easier for me to make time to hang out with my friends. I love the atmosphere of King's and being in residence just heightens that. As a previous commuter who was heavily involved on campus, I was always staying late, and now that I am a residence student, I don't feel the pressure to leave early because the buses that come by King's stop running early into the evening. I feel that I can accomplish a lot more of my school work while I'm at school.
Because it is my last semester at King's, I find that making the decision to move into residence was a really good one. It has made me realize that I am definitely ready to move out on my own (well with a group of friends at least), and that I want to take the next step as a soon-to-be graduate of King's. Having the opportunity to be a commuter and a residence student during my time at King's has allowed me to appreciate both types of lifestyles. There are definitely quite a few pros and cons for both sides, but what I think makes a difference is the fact that I decided to become a residence student later on into my degree. I feel a lot more comfortable with the idea of living on my own the older I get, and I don't feel the urge to do the things a lot of students end up doing when they experience what freedom away from the parents first feels like.
I know that a lot of students won't end up taking the route I ended up taking - from being a commuter to a residence student - but I definitely think that it's worth considering if you are seriously thinking about moving out and living on your own. I know that I really love it. Who knows, maybe you will to!
All the best!
Monica