Back to Blog
King's Rez Traditions
May 26, 2017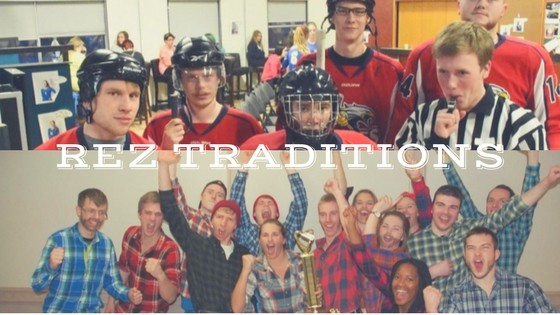 Hey Future King's students!
If you are interested in living in residence, there are some fun traditions that you can look forward to! I sat down with Alison Exner, the Residence Life Coordinator to talk about some of our rez traditions. You should definitely look forward to being a part of some of these amazing traditions!
1. West Edmonton Mall Hide and Seek
During the long weekend in early September, first year students go to West Edmonton Mall where they have to find their Resident Assistants (or RAs). The RAs disguise themselves in costumes and hide somewhere in the mall, and new students try to seek them out. Some of our student leaders have dressed up as a swimmer, a pregnant lady (classic), Where's Waldo, or even a princess. Have some fun finding student leaders in one of the biggest malls in the world!
2. Sock Wars
Sock Wars is a fun competition that takes place in residence where students try to assassinate each other with socks. This tradition has been around for a few years, with each year building on the next and getting more and more exciting. Each student starts with a specific target to attack with a sock, and receives their victims targets once they successfully assassinate them, until just one person is left alive. To make it more exciting, crazy safety items are added each week to protect students from being assassinated. You might find yourself holding a coffee mug, your tooth brush or wearing an image of our campus minister Tim Wood on your clothing. The last man standing wins Sock Wars, the title of Sock War Champion, and a $100 gift card to wherever you want! See here for more info!
3. Rez Rumble
With over 10 years of traditions, Rez Rumble is one of those events that you want to be a part of. Each floor is pitted against each other in minute to win it competitions. The more games you win, the higher your chance of victory in Rez Rumble. Each floor from the tower dresses up and is paired with a floor from the apartment residence across the street. There is a huge pizza party and loads of gift cards to be won. If your floor wins, you also get bragging rights for the rest of the semester!
4. Room Draft
Picture how sports have team drafts and you will understand what this event is all about. Room draft is where students choose who they are going to live with for the following year, as well as which room they want. Something that is typically boring is made fun as each room dresses up in sports costumes and can win loads of prizes. Delicious food is supplied for this event, and we have even seen a few commuter students decide to move into residence (I am one of those students)!
5. Rez Wake
As the fanciest residence event of the year, students come dressed up to reminisce on the past school year. Students can come and tell their stories of living in residence, with immunity given to students from the residence life staff, so some students go all out for their stories. You can take photos with friends and roommates, eat a bunch of yummy food, and hilarious awards are given to students. This tradition has been going five years strong, is a fun way to end the school year, and your chance to say bye to your roommates until the next year.
6. Stairwell Painting
This tradition has been going since 1993 when the King's campus moved to its current location. Each student and/or dorm room can permanently leave their mark on King's by signing their name in the stairwells of either our Tower or Apartment residence buildings. Each year has a different theme - past years have included snap chat shapes, kites, and trees. Alumni students have even come back to King's to see their shape in the stairwells. Who knows, maybe you can leave your mark at King's too?
Which traditions are you excited about when you move into residence? Remember the deadline for a guaranteed spot in residence is June 15. Make sure you've applied and paid your deposit by then!
All the best,
Monica