Back to Blog
Going Dutch on the CHE Exchange (Part 1)
Jan 13, 2017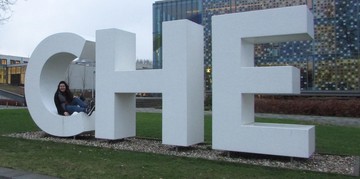 Hey there adventurous future students,
Have you had enough of the long Canadian winters? Do you crave the excitement of eating foreign food and love learning about far away places? If you said yes to any of these questions, then I recommend you pack your bags and sign up for the CHE 2-week exchange to the Netherlands. You spend 2 weeks during the month of January taking a course at CHE (Christelijke Hogeschool Ede) in Ede, Netherlands, traveling, and earning credit towards your degree! I'm currently on the trip right now, and you can take it from me, this is a once in a lifetime trip. Here's all the details on what the trip is like, so that you'll be inspired to sign-up for this amazing opportunity when you're at King's!
Program
King's offers this trip as a 3-credit Business course, meaning you can get a full course (normally taking a full semester) in just 2 weeks! During the program you attend lectures at the CHE university about Dutch culture, work on a group project with Dutch students and visit museums and other landmarks all over Holland. Personally, I'm not a business major. I am, however, a Politics-History-Economics major and I love learning about the political structure in the Netherlands...For example: did you know that the Netherlands still has an active monarchy, as well as a prime minister?
Places
The trip starts in Amsterdam and there is no better way to shake off jet lag than by wandering the streets of such a beautiful city while the Christmas lights are still lit. After a couple of days in the centre of Holland, the group goes by train to Ede where the university is located. The rest of the trip features day trips to cities all over Holland and the second week includes an overnight trip to Brussels, the capital of Belgium. Every location is rich in history and architecture, and it seems like each location more beautiful than the last. 
People
Travelling with a group of university students from King's and also with students from other universities from all over the world (including students from a college in Pennsylvania) guarantees that you will learn about all kinds of cultures, not just Dutch culture, and more importantly, provides you a group of friends to join you on all of your adventures. The next group of people who you will find yourself connecting with is your host family. If you're lucky like me, you'll be staying in an authentic Dutch home overflowing with tasty treats and great conversation. When you find yourself at school and away from your amazing host family, you'll probably be working on a group project with CHE students. The project is a great way to connect with people your age and diminish cultural differences. 
The truth is you don't need to be a business major OR a PHE major like me to get blown away by the everyday beauty, the deep history, and the amazing people in Holland. Stay tuned for part 2 of my trip!
Stay Golden, 
Marissa