Back to Blog
Make the Most of Your Degree: Study Abroad!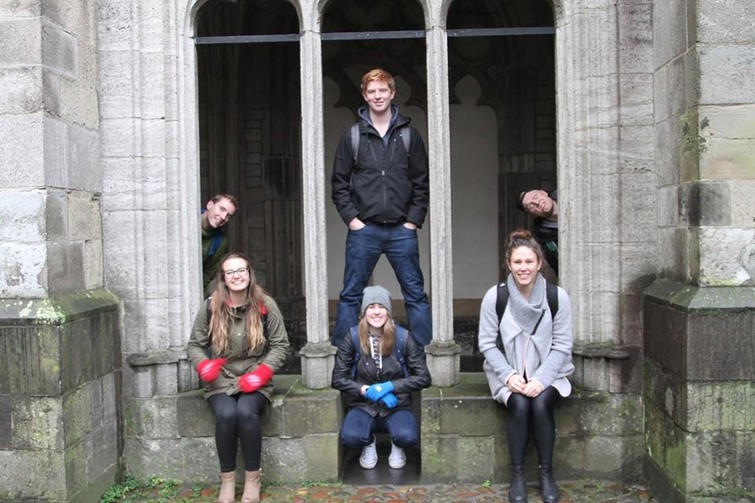 Hello future students!
An awesome way to make the most out of your degree is to study abroad! Studying abroad for a semester or a year, or doing an internship abroad, allows you to travel and practical work experience, all while earning credits towards your degree! You will be able to experience exciting cultures and locales, gain unforgettable memories, meet new friends from around the world, and learn how to appreciate other perspectives and points of view. These are all valuable experiences that will not only shape you as a person, but can also boost your resume! King's has some really exciting opportunities you can take part in; here are some of the options available to you!
Program-Specific Internships: Programs such as Business, Environmental Studies and Computing Science have built in internships that can be completed locally or abroad. For more information, visit kingsu.ca/programs.
The Micah Centre: If you're interested in having a greater understanding of global poverty, peacemaking and social justice then this is the place for you! Students can create a custom internship globally or locally with a focus on service learning. Click here to learn more!
Laurentian Leadership Centre: Senior students can travel to Ottawa and spend a semester studying leadership, public policy, ethics and contemporary culture while interning with the federal government! To find out more, visit twu.ca/laurentian.
Best Semester Program: Students can spend a semester abroad at another Christian university in programs such as English in Oxford, Journalism in Washington, D.C., Music in Nashville, and many more! For a complete list of the programs, visit bestsemester.com.
Leder School of Business: There are several study abroad options designed predominantly for business students, but are open to students in other programs too! You can take a 3 week exchange to the Netherlands, a study tour to Asia, and a semester abroad at a partner university. Check out the Leder School of Business website to learn more!  
Au Sable Institute of Environmental Studies: Want to visit the Great Lakes? Okay, how about Costa Rica? Or what about the Pacific Rim? Students can take field-based, environmental studies courses at any one of Au Sable's International locations. Click here for more information!
Custom Study Abroad: If you don't find an option that interests you or is linked with your degree, you can create your own semester abroad! Students can work one-on-one with their faculty advisor to form their own study abroad opportunity at any accredited international university.
Broaden your horizons by taking up one of these opportunities! The world is your oyster and there are people here at King's who are ready to help you as you take on new and exciting adventures such as studying abroad or international internships.
xoxo, Gossip Girl
J.k. It's Becky