Back to Blog
Spiritual Opportunities at King's
Mar 25, 2016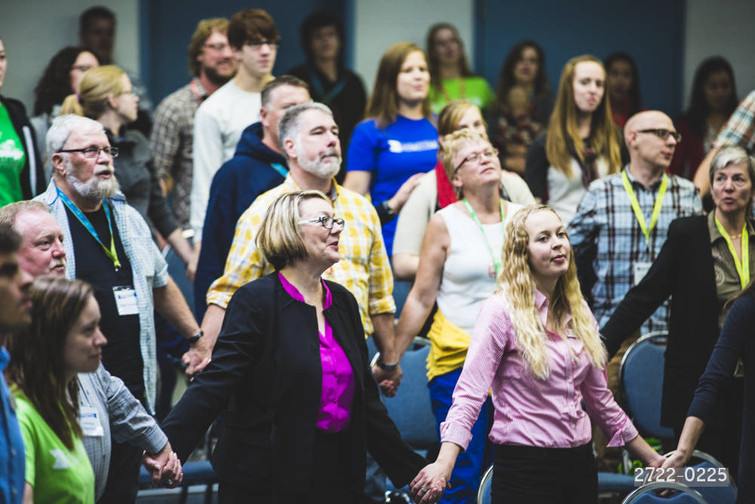 Hey all!
As I am sure you've heard, here at King's we value the life of students in all aspects, not just academics. This includes supporting and helping grow the faith and spiritual life of students. In light of the Easter weekend, I want to highlight some of the ways that you can grow in your faith at King's:
1. Chapel
Every Wednesday during the common free period (11 a.m. - 12 p.m.), chapel is held for all students, faculty and staff. Chapel is not required, but all students have this block free so they can attend. Worship is usually led by fellow students, and professors and students will share a message.
2. Small Groups
One of the student leadership positions available at King's is Ministry Assistant. One thing that MA's do is lead small groups – some have different themes, some do Bible or book studies, but all are a great way to get connected with people who have similar interests as you grow in your faith.
3. Worship 857
Worship 857 is held Wednesday nights at 8:57 p.m.; hence the name 857 (it's very creative). At 857 students lead worship and a student will share a testimony or some thoughts with all who come out. It's a very intimate setting and is a great way to de-stress from homework.
4. Silent Retreat
The Silent Retreat this year was held at Kings Fold Retreat Centre near Cochrane, Alberta. Kings Fold is located in the foothills of the Rocky Mountains on 166 acres of land that overlooks the Ghost River Valley; it's a beautiful location that is a perfect place for rest, renewal and retreat. Student who attended the Silent Retreat were able to get a break from the busyness of school and experience God's peace by spending the entire weekend in silence. Fellow blogger Josh Thomas went this year and this is what he had to say about it: "When I heard that the King's University was holding a silent retreat at Kings Fold, I jumped at the opportunity to sign up. The last few months of my life had been challenging and very busy and I was craving the chance to escape the everyday – and I am so glad I did!"
5. 24/5 Prayer
24/5 Prayer is a week where students, staff and professors can volunteer to commit to spend time praying for the King's community. A sign-up sheet is posted and people can commit to a 1 hour slot (or more) and spend it in the prayer room at King's. The ideas is that there is non-stop prayer for 5 days. It's incredible to see the people at King's come together to support one another in this way.
6. Student Leader Positions
If these opportunities to grow in your faith sound exciting to you and you want to get more involved, there are several student leader positions that may interest you. One that I already mentioned is our Ministry Assistant positions. Ministry Assistants lead small groups, coordinate 857, and partner with Residence Assistants to mentor a residence floor and help with their spiritual needs. Another position is a Worship Assistant; their responsibility is to plan Wednesday chapels. If you don't have the time to dedicate to one of these positions, you can also get involved by volunteering your talents on a worship team that will play at chapels and 857.
I hope that this blog shared some new and exciting opportunities for you to grow your faith at King's!
Happy Easter!
Tara