Back to Blog
The King's University Bucket List
Apr 01, 2016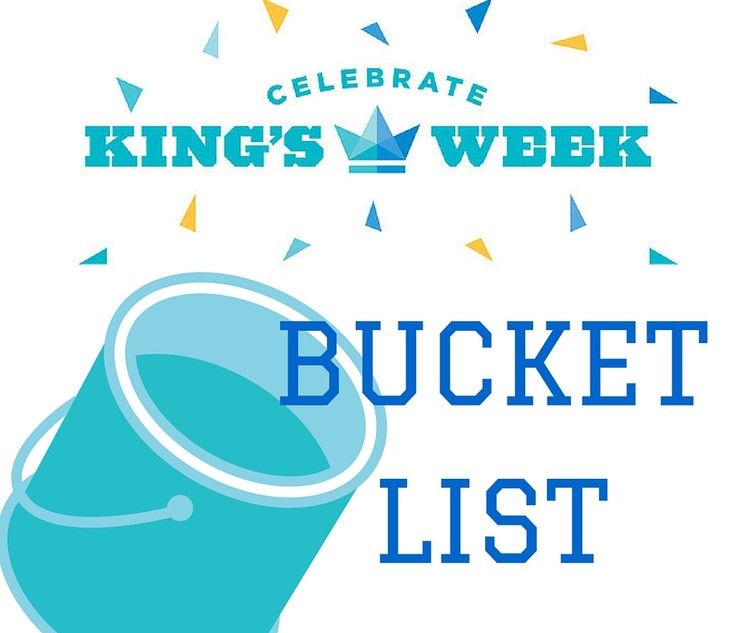 How's it going King's?
I hope you all had a great Easter Weekend! As you may know, last week was Celebrate King's Week! The week was all about highlighting the very best and brightest parts of King's identity. As part of this week, students, staff, faculty and alumni were encouraged to submit their favourite things that capture the essence of life at King's. They created a "King's Bucket List", so-to-speak. 
In this weeks blog post, we've listed some of the things that we believe should be on anyone's King's Bucket List. Check it out:
You haven't had the full King's experience until you've...
1. Played a game of cups!
Cups is the unofficial official game of The King's University. You may have never heard of it, but you'll come to know it very well during your time at King's. The Annual Cups Tournament takes place every year at the Fall Retreat and is sometimes played throughout the year too! Check out this video for more info.
2. Worn shorts to class in the winter.
When you live in residence, there is no need to go outside! Ever! That means you can get away with wearing pretty much anything during even the coldest winter months. While the commuter students walk in with toques, coats, gloves, scarves, boots and other winter attire, you can sit in class wearing your most comfortable pair of board shorts. Can you think of anything better than that? 
3. Been to a professor's house for a BBQ!
When we say that students at King's are a name and not a number, we mean it! Most faculty host BBQ's at their houses at the beginning of the year for their students to get to know each other and hang out! It's also a great way to get to know your professors and create a more conducive learning environment in the classroom. 
4. Made a late night 7-Eleven run.
King's is just 400 metres away from a 7-Eleven. You guessed it, that means late night slurpee, pizza, ice cream and hot dog runs. When you need a break from that term paper due the next morning, 7-Eleven is there for you! 
5. Studied late at Denny's.
Although students debate about which Denny's is the best,everyone agrees that Denny's is the best place to study. If you were to visit any Denny's Diner on any given night, you'd be sure to find a handful of King's students studying hard with one hand and eating pancakes with the other! And don't forget about unlimited coffee refills! 
6. Had butter chicken from the cafeteria.
Hands down the best meal at the Cafeteria is Roger's Butter Chicken, available every Wednesday at lunch! It's always sells out, so be sure to get there early. This is one cafeteria item you have to try!
7. Taken a selfie with the President.
Dr. Melanie Humphreys is our institution's President. She's really friendly and loves to get to know all students, including by taking selfies together! If you don't get one with her during Registration/Confirmation Day, she'd be happy to take a selfie with you anytime you run into her! 
8. Played a prank on someone.
Pranking each other is part of King's culture (like putting live lobsters in a rez student's bathtub). Always done in good-fun, it's a great way to have fun with friends, get to know other people and put your creativity to good use! 
Well that's it for now! This is just a small portion of the many things that make up a the King's experience. As you join us this fall, or in the future, you'll be able to start creating your own bucket list and enjoy making memories that will be with you for the rest of your life!
We can't wait to see you here at King's!
Josh