Back to Blog
Student Athlete Day: A Q&A with Eagles Athletes Past and Present
Apr 06, 2021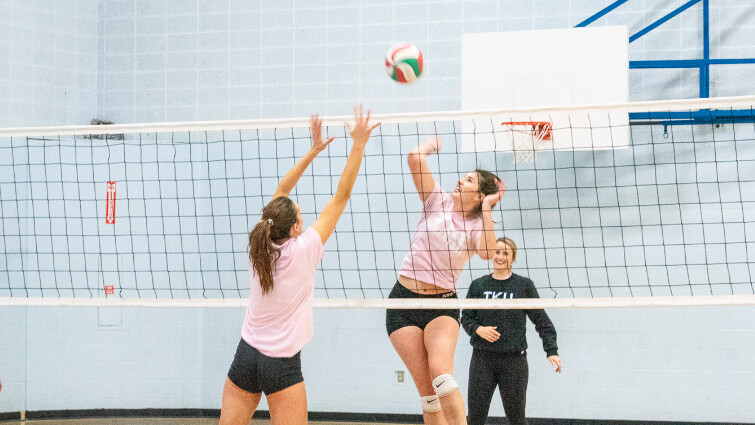 Today is National Student Athlete Day, a day to celebrate student athletes and all the hard work they put into both their sport and education. I interviewed some current and alumna Eagles about their experiences as student athletes at King's.
A huge thank you to Anna Pattison (5th Year B.Sc ENVS), Owen Leeder (5th Year B.A Psychology), Kaleigh Greidanus (B.Sc Biology, alumna), and Sydney Speers (B.A ENVS, alumna) for participating!
What year(s) did you play as an Eagle and on what team?
"I played on the women's volleyball team from the 2016/2017 school year to this year (2020/2021), for a total of 5 years" -Anna
"I played on the men's volleyball team from 2016-2018, took a break, and came back to play from 2020-2021." -Owen
"I played on the women's soccer team for three years from 2017-2020" -Kaleigh
"I played for the women's basketball team in 2017" -Sydney
What is your favourite aspect of the sport you play?
"The connections and friendships with my teammates. Over a season you spend countless hours with your teammates and go through successes and disappointments that bring everyone closer together. Volleyball has also given me a chance to grow enormously in my character and leadership skills." -Anna
"I love how technical it is. For a team to be good, all the players on the court need to be doing their jobs right, and there are a lot of factors and training that go into creating and maintaining a consistent team." -Owen
"The teamwork would be my favourite. With 11 people on such a large field, you really need to communicate and work well as a team, and learning to trust and rely on one another was such a rewarding part of playing." -Kaleigh
 "It's a physical game and I've always loved that. I've played since I was ten years old! I also love the footwork involved with my centre position." -Sydney
How did you balance being an Eagle and being a university student?
"Organization! It is important to keep organized and set aside time to do schoolwork." -Anna
 "It is easier to find a balance once you find a rhythm that works for you. I usually will plan out my days, and how much homework I want to finish before practice, and what I can do after practice and this has helped me manage my time better." -Owen
"Knowing that I had practice every night and games on the weekend, that motivated me to get my homework done around my soccer schedule!" -Kaleigh
"Initially, I can't say I balanced those two aspects of my life very well. With many nights consisting of practices and workouts I was tired, making it hard to focus on school material. I needed to improve my time management skills, and by the end of the season I felt confident in both my academics and athletics" -Sydney
What is your favourite Eagle memory?
"Getting gold at the ACAC championships and going to nationals in my third year was amazing. My other favorite memory was doing our semi-annual trip to Mt. Robson and completing the Berg lake hike in a day!" -Anna
"From a culture standpoint, my favourite moments of being an Eagle are just the community you constantly get to be a part of, and the friends you get. From a team stand-point, the road trips are always fun." -Owen
"When we won against Grande Prairie at home to clinch a spot at provincials!" -Kaleigh
"Definitely when my parents and grandparents came to watch my first game. They coached and cheered me on throughout my basketball career, so it was wonderful to have them cheer me on as a university athlete" -Sydney
What is some advice you would give to prospective students who are interested in playing varsity sports during their university career?
"Choose a school where you love the culture and atmosphere. You are more than just an athlete and you should enjoy all aspects of your education. I would also recommend you soak up all the wisdom you can from older teammates." -Anna
"If you're debating on whether or not to become a student athlete, and you have the means to be one, I'd encourage you to do so. Varsity sport is an opportunity that is a little bit time dependent. You're only young once, so push your body and see what it can do. Create friendships that will last a lifetime." -Owen
"I didn't come to King's thinking I was going to play a varsity sport, but I can honestly say it made my experience at King's so much richer! The community aspect of it, as well as the physical aspect, was so rewarding." -Kaleigh 
"I would highly recommend playing varsity athletics; it was a dream of mine to play at that level, and I enjoyed every moment of it." -Sydney
If you are thinking of playing variety sports, I recommend checking out the King's athletics page and signing up for I.D. camps!
Talk Soon,
Kena