Back to Blog
Student Interview: Summer Research with Angelle Britton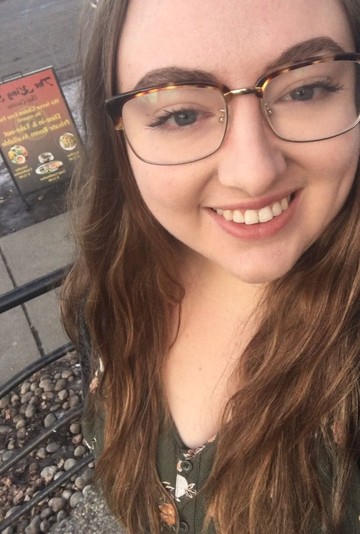 Hi friends!  
Ever wondered what type of opportunities you can have at King's? Try student research projects! There are many types of research opportunities you can work on, not just during the school year but throughout the summer as well! I interviewed Angelle Britton who is going into her third year in the four-year Bachelor of Science in Biology program and is currently working on her very own summer research project. Let's take a look!
What is the research you are doing?
"The research project I'm a part of this summer is with Dr. Leah Martin-Visscher. This project is focused on antimicrobial substances produced by bacteria called bacteriocins and their immunity proteins."
Why did you decide to dedicate your summer to this research project?
 "I decided to spend my summer doing research because it is an incredible and unique opportunity to begin to use the theory and skills I've been learning in class these last few years. In the past, I really enjoyed time spent in the lab for my courses and working as a TA, so I thought this might be a good fit for my interests and future goals as well."
What interests you the most about the research you are doing?
 "I really have been enjoying the molecular biology and genetic experiments we've been doing. It's been amazing to do things in the lab that I learned about in my courses previously and to be able to write procedures and complete the experiments on my own (with lots of help, of course)."
Is this more of an individual research project or are professors around to help guide you?
 "This project is Dr. Martin-Visscher's, so I'm definitely not on my own. Although I have tasks and experiments that I run 'by myself,' there are lots of people around to answer the many, many questions I come up with on a daily basis. I would for sure have no idea what I was doing without my professor's guidance, nor would I have a project to work on for that matter!"
What is your favorite part of doing summer research?
 "There are a few really great things about doing summer research so far. Like I said, it's really cool to do experiments on your own that you learned of in class or did briefly in the lab before. Another great part is the community we have. There are not many people in the science wing during the summer, but we are all here working on these projects, and we just have a great comradery with each other. All of us students doing projects for the Chemistry department were given the opportunity to give poster presentations at the end of May at a national chemistry conference, and it was such an awesome experience. Lastly, I think my utmost favorite part so far has just been seeing what real research is like. I've been told by many people that you'll either love it or hate it--and I'm for sure loving it so far."
Do you find this summer research opportunity a useful way to enhance your abilities towards your future career? Why or why not?
 "Yes, I really think so. My main goal right now is to go to graduate school after King's, and a huge part of grad school is working for a professor and being a part of their research. Having this opportunity early on in my education to work in a lab, to see how a lab really works, and to be a part of the research process is going to be really valuable."
What is one piece of advice you would give a student who is thinking about doing a summer research project at King's?
 "If you're thinking about graduate school in the sciences, professional programs, or working in industry after graduation then definitely consider applying to do summer research. It's a unique opportunity to be a part of something really valuable for four months. My main word of advice would be to work hard at your studies (especially in lab!) and keep an eye out for the application meeting in the winter semester."
There you have it friends! A special thanks to Angelle for answering these questions. I hope that gets you thinking about the types of opportunities you would like to discover when you come to King's!
            Yours truly,
Bianca