Back to Blog
Top 5 Places To Hike In The Canadian Rockies This Fall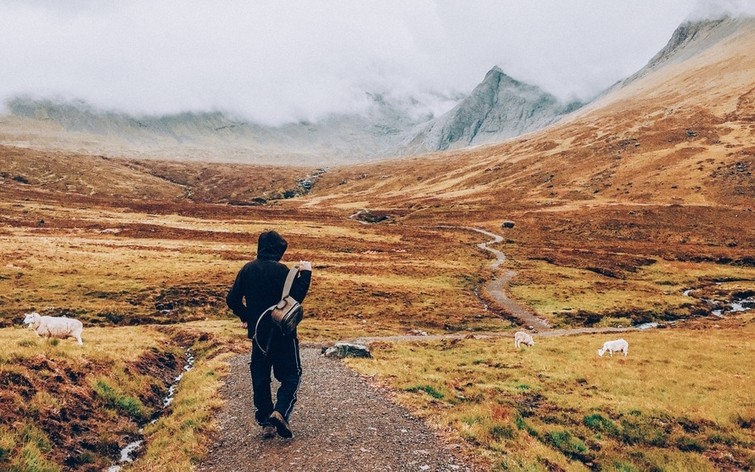 Well, hello King's!
Let's face it, during this time of year it can be so easy to lock yourself inside, snuggle up warm in a blanket, and miss out on the beautiful explosion of colour happening outside. I'm determined to not let that happen, which is why I've put together this great list detailing all the best hikes to do in the Canadian Rockies this fall.
Boulder Pass, Banff National Park
This is a difficult hike but with a spectacular payoff, especially in the fall. Make sure to set aside about seven hours for this hike and get ready to enjoy alpine meadows, small lakes and remote wilderness. The trail begins at the Fish Creek parking lot, off Whitehorn Road, 3km north of Lake Louise.
Big Beehive, Banff National Park
An easier trail, with a wide and well-graded path, this hike will take you high above Lake Louise where you can look down on stunning yellow Larch trees surrounding the turquoise water. It's only a 10km hike with a moderate 540m elevation gain, so you're sure to meet lots of other people on the trail. Be sure to stop at the Lake Agnes teahouse on the way up to re-energize (and make sure to bring cash). To get there, just go straight to Lake Louise and look out for signs along the lakeshore trail.
Lake O'Hara, Yoho National Park
This hike is generally quiet and features some of the most stunning scenery in the Canadian Rockies. Keep in mind that you'll have to take a bus to get to the hiking trail, as cars and bikes are restricted. You can book a bus here. The actual trail itself is a 6km loop around the valley where you can enjoy the beautiful fall foliage that surrounds the lakes and meadows. This trail is only open until September 30, so if you want to do this hike in 2016, be quick!
Sulphur Skyline, Jasper National Park
With a distance of 8km and time of around 6 hours, this hike is no afternoon stroll. However, you'll be treated to jaw-dropping views of the Fiddle River Valley and limestone peaks as you climb through 700m of switchbacks and open vistas before arriving at the 2,050m summit. This hike starts from the Miette Hot Springs parking lot, so you can even have a relaxing bath once you've finished.
Bald Hills, Jasper National Park
Start off at the Maligne Lake parking lot and walk through woodland caribou habitat and mouth watering views of the lake itself before reaching the Bald Hills. There are a few steep sections to this hike, but the views at the top make it well worth the sweat. You should plan for this 10km hike to take about 5 hours.
I sure hope that this blog post has given you inspiration to turn off Netflix, get up from your warm couch, and explore the depths of the Canadian Rockies. There is so much beauty to see this time of year, and you shouldn't waste any of it (even if you're catching up on old re-runs of Gilmore Girls - Lorelai will still be waiting for you when you return)!
Get out there and enjoy nature,
Josh