Back to Blog
Top 5 Things You Can Do With A Free Edmonton Leisure Pass
Feb 19, 2016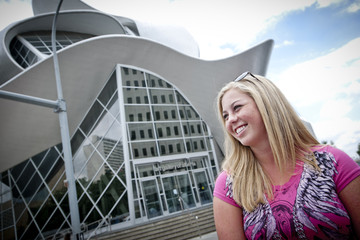 Hey People!
Did you know that if you're an Edmonton Resident who falls in the low-income category on your last tax return (which so many university students are), you could be eligible for a Leisure Access Pass?! This pass gives you FREE access to many city leisure centres, tourist destinations and museums! You also get 75% off city registered classes, such as pottery, cooking and dance lessons!
Feeling overwhelmed by everything you can do with this pass? Don't worry, I've broken it down to the top 5 things you can do with the pass!
Nestled on the banks of the North Saskatchewan River, the Edmonton Valley Zoo is a great way to spend your day! It is a small, but intimate zoo, which has many engaging and exciting animal experiences. The zoo is home to over 350 animals from many different climates and habitats and has countless opportunities to interact and engage with them. The zoo also hosts many events during the year, such as The Festival of the Lights, Wine & Wildlife, and Hop To It! With a free leisure pass you get to visit all these fun events for free! What more could you want?
Fort Edmonton Park is another Edmonton favourite. It is situated on 158 acres of wooded parkland along the River Valley and includes the 1846 Hudson's Bay Fort, as well as the Streets of 1885, 1905 and 1920 and a midway, all depicting the evolution of Edmonton's early history. Fort Edmonton Park also hosts events during the year such as Sunday brunches, productions at the Capitol Theatre and Wagon rides through the streets. Don't miss a ride on the train or street car!
The Muttart Conservatory is an innovative botanical garden of plant science within three striking glass pyramids rising from the River Valley. Within the pyramids, three climates show the Conservatory's year-round displays, while the fourth pyramid housing feature displays that change up to 8 times a year. Plants aren't the only thing at the Muttart; live music, dance and fine art showcases bring nature and art together. This experience is well worth paying for, so there is no excuse to not take advantage of the free pass to visit this amazing attraction.
As if a free leisure pass wasn't enough, the City of Edmonton Reuse Centre wants to give you even more free stuff! The Reuse Centre accepts various items from Edmonton residents free of charge and makes them available to others for reuse. The centre aims to promote the idea and benefits of reuse, to provide affordable items to organizations and individuals and to divert waste from landfill.
John Walter, originally from Scotland, came to Canada in 1870 to build York boats for the Hudson's Bay Company. Five years later, he purchased a homestead and became one of Edmonton's wealthiest residents. However, in 1915, a natural disaster destroyed most of John Walter's business empire. Visit the John Walter Museum to learn how John Walter helped Edmonton grow from a Fur Trading Post to a large Metropolis and experience a slice of pioneer life first-hand.
I hope that this blog post has given you a glimpse at the many FREE attractions available in Edmonton! And as students, who doesn't love a bit of free, eh? Be sure to check out edmonton.ca for a full list of Edmonton attractions available with the free leisure pass, as this is but a small glimpse into a long list of attractions. If you would like to sign up for the free leisure pass, click here for more information!
Remember, the best things in life are free,
Josh :)