Back to Blog
How to Make Vegan Avocado Brownies
Aug 28, 2019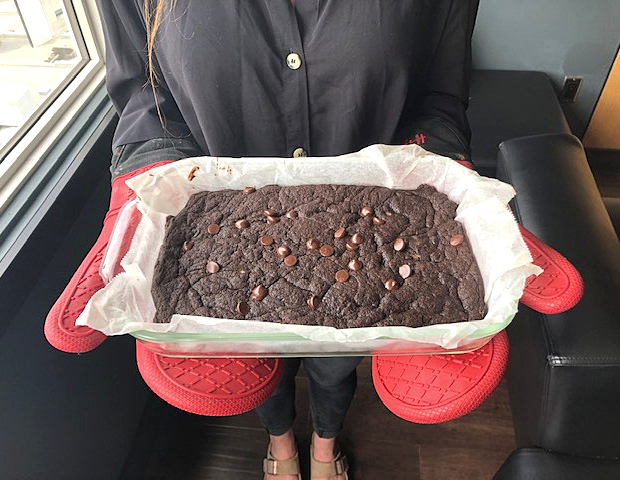 I hope the cover photo caught your eye, because you're in for a treat with this blog! I've been vegan for over 6 months now, and have been experimenting with vegan baking for a while, but I wanted to try something new . . . so Emily, Bianca, and I tried making avocado brownies! I love avocado, so I was stoked to see how this would turn out!
Here are the ingredients we used:
1 Tbsp flax seed meal
3 Tbsp cold water
1 cup all-purpose flour
1/3 cup organic granulated sugar
1/4 cup cocoa powder
1/2 tsp salt
1/2 tsp ground cinnamon
1 tsp baking soda
1/4 cup avocado, smashed
3/4 cup chocolate chips
1/4 cup maple syrup
1/4 cup coconut oil

These are the steps we followed:
Mix the flax seed meal with the cold water and set aside (This is a flax seed "egg" – it will act as an egg replacement in the recipe)
Combine all the dry ingredients in a large mixing bowl
Cut the avocado into the dry ingredients with a fork
Melt the maple syrup, coconut oil, and chocolate chips together in the microwave (about 30s)
Add the melted chocolate mixture and the flax seed "egg" to the dry ingredients and mix
Line a baking dish with parchment paper (we used an 11x7 dish) and press the brownie batter into it
Sprinkle a few more chocolate chips on top if you wish (we did)
Bake at 350 degrees for 18-20 minutes (**do not overcook**)
ENJOY!
We let the brownies cool for a bit, and then brought them to the office for everyone to taste. They were SO GOOD! You couldn't taste the avocado at all, it just made the brownies moist! I was hoping the avocado flavor would come through a bit, but they were delicious regardless! I would definitely make this recipe again, so I hope you guys try it out. If you do, share your thoughts with us in the comments below!
Happy Baking,
Kaleigh