Back to Blog
Admissions Behind the Scenes: Mail Outs
Aug 30, 2019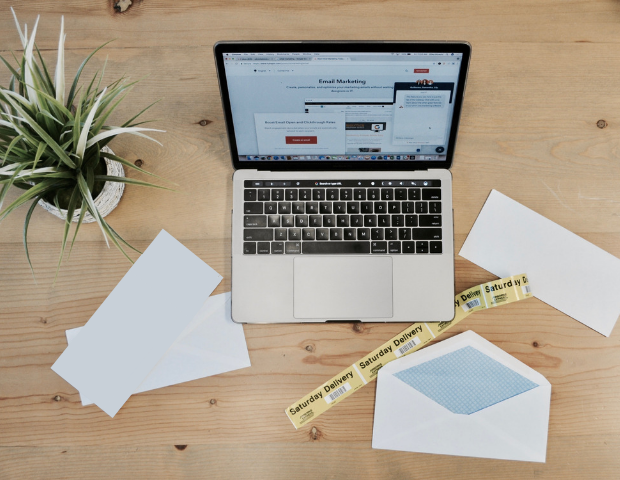 As the summer months come to a close, we begin to welcome the start of a new academic year. For this last summer blog, I thought it would be nice to transition into the new school year by getting to know a little more about the King's community, especially our Admissions Department and how we keep in contact with you! If you have ever received mail from us, you get to witness the behind the scenes of who sends you King's mail. If you have not received any mail from us yet, don't you worry because a new academic year means lots of new mail to send out!
To get to know the process of how mail gets sent out to you, this blog will be in the form of frequently asked questions – answered! This is how we keep in touch with you!
Question #1: Who writes your letters?  
Before we even prep the mail outs, your admissions counsellor is the first point of contact to you! They are the ones who write out the letters that you will be reading. Once they do that, they sign it off and then it's ready to prep.
Question #2: What is the process like?
After the letter gets sent to the printer, we have a great team of Student Workers who prep the mail outs and make sure everything is perfectly laid out for packing. This includes your letter and the viewbook that you get. Then we have a super diligent team known as the Ambassadors that packages everything up and mails them out to you.

Question #3: Who are the Ambassadors?
This is a frequently asked question and an important one because without the Ambassadors, packing all these mail outs would almost be impossible! The Ambassador program is for students who are able to facilitate leadership in various volunteer opportunities and be engaged in the community. These students will be the first to greet you at an Open House or help you in any way they can. They are truly the face of The King's University. To find out more about the Ambassador Program or find out how to be one, click here!
Question #4: Why do we send mail to prospective students?
Sending mail outs to prospective students is one of the reasons why we love what we do as a department and a community. We send mail outs so we can get to know who you are, talk to you more about your program interests and visit opportunities, and help you achieve the future you want for yourself. We can send mail outs to our prospective students because King's is a small enough community to be personal with you – our future and current students. It is a great way to interact with students who have all kinds of passions and interests!
Well, this officially marks the end of this year's summer blogs. A big thanks to all of you who have been keeping up with us this summer. I hope all of you had a fantastic summer and I am so excited to see what this new academic year has in store for all of us and what new blogs we get to write for you!
Yours truly,
Bianca